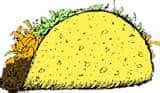 This goes live today, sorry about the mix-up yesterday. Whether you like them crunchy or soft, spicy or mild, tacos are awesome. Fans are certain to find heaven in Civic Center Park on Saturday, August 20 during Tacolandia, Westword's annual celebration of street tacos from 4 p.m. to 7 p.m. Upwards or 40 restaurants and tacquerias will offer samples of their signature tacos. But that's just the start of the fiesta. There will be entertainment, too, including live performances by musicians and dancers and a Saints & Sinners car show.
Save $10 off general admission tickets (pay $25) by purchasing here. Or go for a VIP ticket at $65 (again a $10 savings), which includes early access to the event at 3 p.m., as well as access to the special VIP area featuring food from Lola Coastal Mexican and two drink tickets redeemable for alcoholic or non-alcoholic beverages. You can buy those here, as well. If you don't see the ticket you want, check to the right of the page where it says "More Local Offers."
Participants include Lola Coastal Mexican, Garibaldi Mexican Bistro, Los Tacos,  Adelitas Cocina y Cantina, Palenque Mezcaleria, Panaderia y Taqueria Contreras, Bubba Chinos, Los Chingones, Roxie's Tacos, Tacos With Altitude, Tortas ATM, R Taco, Taco Cat, Taco Unico, Centro Mexican Kitchen, Los Parceros Colombian Restaurant, SOL Mexican Cocina, Lupita's Mexican Restaurant, Yareth's Mexican Fast Food and Chuey's.