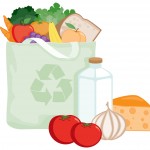 Bargain hunters always love a good buy-one-get-one sale, especially when the second item doesn't cost a dime. And it's not often Sprouts Farmers Market offers such a wide-ranging buy-one-get-one sale — only a few times a year. From Wednesday, December 1 to Tuesday, December 7, the popular grocery chain has hundreds of items for buy-one-get-one FREE.
And, if you find any bare shelves or empty bins, ask a store employee for assistance, as there is often additional product waiting to be stocked. If not, ask for a rain check. (Did you know Sprouts' rain checks never expire?)
The second FREE item must be of equal or lesser value. However, no mixing brands or products — just matching.
With so many items on sale, there are just too many products to list.
Here are some of our top picks:
Boulder Canyon potato chips (6.5-oz.)
Cascadian Farm organic cereal (9.5-oz.)
Rao's Homemade marinara sauce (24-oz.)
Jonny Pops (4-pack)
Blue Diamond Nut-Thins (4.25-oz.)
Sprouts creamy peanut or almond butter (14-oz.)
Celestial herbal tea (20 bag)
The Spice Hunter spices (sizes vary)
Humble deodorant (2.5-oz.)
Review the weekly circular in-store or online for a full listing of all the items on sale.
Now's the time to stock up because many specialty brands are included in the sale, which rarely (if ever) go on sale.
There are 32 locations in Colorado. (There's a 33rd location set to open on December 15 — in Green Valley Ranch.)
Looking to bag more savings on groceries?
Thursday, August 11, 2022
Friday, August 12, 2022
Saturday, August 13, 2022
Sunday, August 14, 2022
Monday, August 15, 2022
Tuesday, August 16, 2022
Wednesday, August 17, 2022