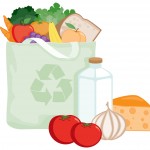 Bargain hunters always love a good buy-one-get-one sale, especially when the second item doesn't cost a dime. And it's not often Sprouts Farmers Market offers such a wide-ranging buy-one-get-one sale — only a few times a year. From August 31 to September 6, the popular grocery chain has hundreds of items on sale for buy-one-get-one FREE.
And, if you find any bare shelves or empty bins, ask a store employee for assistance, as there is often additional product waiting to be stocked. If not, ask for a rain check. (Did you know Sprouts' rain checks never expire?)
The FREE item must be of equal or lesser value. However, no mixing overall brands or product categories.
With so many items on sale, there are just too many products to list.
Here are some of our top picks:
Bulletproof, Cameron's, Jeremiah's, Kicking Horse or Peace packaged coffee (3.8- to 16-oz.)
Urban Pie Pizza Co. uncured pepperoni & sliced chicken sausage pizza (20.45-oz.)
Westbrae organic no salt added garbanzo beans (15-oz.)
Mikey's cheese pizza pockets (8-oz.)
Mom's Best Cereal crispy cocoa rice (17.5-oz.)
Back To Nature crispy wheat crackers (8-oz.)
Nutpods French vanilla almond + coconut creamer (25.4-oz.)
Chocolove salted caramel in dark chocolate bar (3.2-oz.)
Zevia cherry cola (6-pack, 12-oz. cans)
Elmhurst unsweetened milked cashews (32-oz.)
Three Wishes cinnamon grain-free cereal (8.6-oz.)
Jonny Pops chocolate fudge with fresh cream frozen bars (4-pack)
RXBAR vanilla almond protein bar (1.83-oz.)
Birch Benders organic chocolate chip pancake & waffle mix (16-oz.)
Zoup Fresh Soup Company chicken bone broth (32-oz.)
Clo Clo Vegan Foods vegan margherita pizza (10.9-oz.)
Safe Catch Elite wild tuna single pouch (3-oz.)
Late July organic sea salt thin & crispy tortilla chips (10.1-oz.)
Dr. Bronner's Peppermint All-One toothpaste (5-oz.)
Yogi Bedtime tea (16-ct.)
Country Life Co Q-10 100 mg (60-ct.)
Walden Farms chocolate dip (340 g)
Sweetleaf Sweet Drops vanilla creme stevia (1.9-oz.)
Spudlove organic jalapeno thick-cut potato chips (5-oz.)
Stonefire authentic flatbreads everything naan crisps (6-oz.)
Check online for a full review of all the items included in the BOGO sale.
Now's the time to stock up because many specialty brands are included in the sale, which rarely (if ever) go on sale.
There are 33 locations in Colorado.
Check out our round-up of the Best Grocery Deals This Week in Denver.
Looking to bag more savings on groceries?
Monday, November 28, 2022
Tuesday, November 29, 2022
Wednesday, November 30, 2022
Thursday, December 1, 2022
Friday, December 2, 2022
Saturday, December 3, 2022
Sunday, December 4, 2022