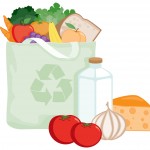 Bargain hunters always love a good buy-one-get-one sale, especially when the second item doesn't cost a dime. And it's not often Sprouts Farmers Market offers such a wide-ranging buy-one-get-one sale — only a few times a year. From February 8 to 14, the popular grocery chain has hundreds of items on sale for buy-one-get-one FREE.
And, if you find any bare shelves or empty bins, ask a store employee for assistance, as there is often additional product waiting to be stocked. If not, ask for a rain check. (Did you know Sprouts' rain checks never expire?)
The FREE item must be of equal or lesser value. However, no mixing brands or product categories.
With so many items on sale, there are just too many products to list.
Here are some of our top buy-one-get-one FREE picks:
Urban Pie Pizza Co. uncured pepperoni with creamy rosa sauce pizza (18.55-oz.)
Pederson's mild breakfast sausage links (9-oz.)
Bitchin' Sauce chipotle almond dip (8-oz.)
Wonderful roasted & salted pistachios (8-oz.)
Simple Mills organic original seed crackers (4.25-oz.)
Sprouts organic creamy peanut butter (14-oz.)
Milton's uncured pepperoni cauliflower crust pizza (10-oz.)
Himalaya simply mint whitening toothpaste (5.29-oz.)
Dr. Bronner's unscented bar soap (5-oz.)
Bulletproof coffee original ground (12-oz.)
Tom's of Maine long-lasting lavender deodorant stick (2.25-oz.)
Manitoba Harvest shelled hemp seed (8-oz.)
Hello activated charcoal toothbrush (1-ct.)
Sprouts honey wildflower (16-oz.)
Nubian Heritage raw shea butter lotion (13-oz.)
Iwi women's complete multivitamin (60-ct.)
Mikey's plant-based pepperoni pizza pockets (2-ct.)
Schmidt's rose & vanilla signature deodorant (2.65-oz.)
Nutpods original barista oat milk creamer (32-oz.)
Rib Rack original BBQ sauce (19-oz.)

Check online for a full review of all the items included in the BOGO sale.
Now's the time to stock up because many specialty brands are included in the sale, which rarely (if ever) go on sale.
There are 32 locations in Colorado.
Check out our round-up of the Best Grocery Deals This Week in Denver.
Looking to bag more savings on groceries?
Wednesday, March 29, 2023
Thursday, March 30, 2023
Friday, March 31, 2023
Saturday, April 1, 2023
Sunday, April 2, 2023
Monday, April 3, 2023
Tuesday, April 4, 2023