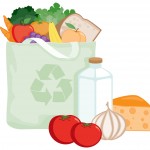 Bargain hunters always love a good buy-one-get-one sale, especially when the second item doesn't cost a dime. And it's not often Sprouts Farmers Market offers such a wide-ranging buy-one-get-one sale — only a few times a year. From Wednesday, February 17 to Tuesday, February 23, the popular grocery chain has many products for buy-one-get-one FREE. (The second FREE item must be of equal or lesser value.) However, no mixing product lines — just matching.
And, if you find any bare shelves or empty bins, ask a store employee for assistance, as there is often additional product waiting to be stocked. If not, ask for a rain check. (Did you know Sprouts' rain checks never expire?)
With so many items on sale, there are just too many products to list. But here are some of our top picks:
Muir Glen organic pasta sauce (25.5-oz.)
Birch Benders buttermilk toaster waffles (8-ct.)
Jonny Pops frozen bars (4-pack)
Kettle Brand potato chips (8.5-oz.)
Zevia soda (10-pack)
Westbrae organic low-sodium garbanzo beans (15-oz.)
Nut Pods French vanilla almond + coconut creamer (25.4-oz.)
Amazing Grass original green superfood (8.5-oz.)
Review the weekly circular in-store or online for a full listing of all the items on sale or review what's on sale online.
Now's the time to stock up because many specialty brands are included in the sale, which rarely (if ever) go on sale.
There are 32 locations in Colorado.
BONUS: This week, smart shoppers can also save $5 on a grocery purchase of $30 or more. You must scan this barcode at checkout for the savings. If you're shopping online, use promo code ZEST5. The coupon is limited to one per customer, per visit.
If you're making a purchase of $60 or more, break your cart down into separate visits of $30 for maximum savings!
Hungry for more food deals?
Sunday, March 7, 2021
Monday, March 8, 2021
Tuesday, March 9, 2021
Wednesday, March 10, 2021
Thursday, March 11, 2021
Friday, March 12, 2021
Saturday, March 13, 2021