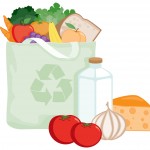 Bargain hunters always love a good buy-one-get-one sale, especially when the second item is FREE. Plus, it's not often Sprouts Farmers Market offers such a wide-ranging BOGO sale — only a few times a year. From Wednesday, February 12 to Wednesday, February 19, the popular grocery chain has many products for buy-one-get-one FREE. (The second FREE item must be of equal or lesser value.) However, no mixing products– just matching.
And, if you find any bare shelves or empty bins, ask a store employee for assistance, as there is often additional product waiting to be stocked. If not, ask for a rain check. (Did you know Sprouts' rain checks never expire?)
There more than 30 locations in Colorado.
Now's the time to stock up because many of these specialty brands rarely (if ever) go on sale.
With so many items on sale, there are just too many products to list. Pick up the weekly circular in-store (or review it online) for a full listing of all the items on sale.
In any case, here are a few of the best deals:
Califia Farms dairy-free almondmilk or creamer (16.9- to 48-oz.)
Kettle Brand potato chips (6.5-to 8.5-oz.)
GOMACRO or Primal Kitchen bar (1.34 to 2.4-oz.)
Delallo semolina or whole wheat pasta (8.8- to 16-oz.)
All Kicking Horse, Boyd's, Jim's Organic, Jeremiah or Cameron's Coffee packaged coffee items
All-natural pork (boneless or bone-in, excludes Meyers ABF pack)
Zevia soda (10-pack, 12-oz. cans) or Celsius energy drink (12-oz.)
Chocolove or Madécasse chocolate bar (2.64- to 3.2-oz.)
Snack Factory pretzel crisps (5- to 7.2-oz.)
Health-Ade organic kombucha (16-oz.)
Cedar's organic hummus (10-0z.)
Birch Benders pancake & waffle mix or frozen toaster waffles (6.56- to 16-oz.)
Sprouts peanut butter or organic almond butter (12- to 16-oz.)
Happy Family organic baby snacks or food pouches (1- to 4.95-oz.)
Bulk nut butter or honey (12- to 16-oz.)
Katz frozen desserts or Enlightened ice cream and novelties (select varieties and sizes)
Daiya dairy-free cheese alternative (7.1- to 8-oz.)
Thrive algae oil or Bellucci extra-virgin olive oil (.85- to 16.9-oz.)
Garcia De La Cruz or Walden Farms (all items)
Late July popcorn, multigrain or Clasico chips (4.4 – 6-oz.)
Traditional Medicinals organic tea (16-ct.)
Annie's Homegrown organic fruit snacks, snack mixes or mac & cheese (4- to 9-oz.)
Chameleon cold-brew coffee concentrate (32-oz.)
Country Archer jerky or Duke's sausages (2.75- to 5-oz.)
Sprouts organic spices (select varieties and sizes)
Jonny Pops frozen novelties or Alden's organic ice cream (6.45- to 48-oz.)
Blake's, Cederlane or Red's frozen entrées or burritos (4.5- to 10-oz.)
Cascadian Farm frozen vegetables or Bonafide Provisions frozen Keto broth (select sizes and varieties)
Westbrae organic beans (15- to 25-oz.) or Imagine Foods soup (32-oz.)
Dr. Praeger's frozen veggie burgers or Quorn frozen meat alternative (7.05- to 10.58-oz.)
Heavenly organics honey or Crofter's fruit spread (10- to 22-oz.)
Sprouts garden salad or tri-color coleslaw (1-lb. bag)
Back to Nature cookies or crackers (4- to 12-oz.) or The Mountain Valley spring or sparkling water (33.8-oz.)
Mineral Fusion shampoo or conditioner (8.5-oz.)
Himalaya Botanique toothpaste (.75- to 5.29-oz.)
Andalou Naturals lotion or shower gel (3.4- to 8.5-oz.)
Dr. Bronner's bar soap (5-oz.)
Dessert Essence hair care or lotion (3.5- to 10-oz.)
Hebrew National all-natural uncured beef franks (10.3-oz.)
Orgain plant-based Keto protein or meal (.97- to 2.01-lbs.)