Story by Carolyn Erickson. It's time to plan our fall and winter getaways. One of the best ways to do that is to rent an RV for your holiday travel. The open road is stretched out before you, and you and your family can spend an awesome week away in just about any part of the country with a rental RV from RVshare.
In Colorado — and in many other parts of the country — fall is the perfect time to go camping. Campgrounds are less crowded, lakes are surrounded by trees sporting gorgeous fall color, and the temperatures are perfect for campfires.
And many folks are still trying to find alternatives to traditional vacations that involve flying and staying in hotels (or squeezing all the uncles and aunts and nephews and nieces into a relative's house for the holidays).
Rather than flying south for the winter, take the family on a cross-country trip and bring your 'hotel' with you.
Living the RV life is a great way to put a little distance between you and the world, and travel safely.
Pull up at a campsite in a national park, and tuck into comfy beds for the night.
Park at the beach and cook dinner in your own kitchen.
Drive across the country without ever stopping to use public restrooms.
Rent your dream RV getaway vehicle at RVShare
Is it expensive to rent an RV?
The average price of an RVshare rental is $150/night. Older motorhome rental prices start at $100 a night, travel trailers as low as $50 a night. (Newer RVs start at $200/night for motorhomes and $125 for trailers.)
Compare that to the cost of plane tickets plus hotel accommodations. Think about the money you'll save cooking in your camper rather than dining out. The benefit to your bank account is obvious.
By renting an RV, you eliminate the expenses of airfare, hotel rooms, and eating out. But your view will be awesome.
Bring your home away from home along with a towable RV
Should you buy an RV or should you rent one?
One of the best reasons (in our opinion) to rent an RV is that it's an affordable vacation choice, with a range of options and price points to fit your budget and travel style.
Let's face it, buying an RV is expensive – especially if you go for the high-end luxury types that really allow you to travel in comfort. A travel trailer or motorhome will cost you anywhere from $10,000 to $300,000 – and then you have to maintain it once you own it.
A much smarter option for the casual vacationer is to rent an RV. If you later decide you do want to own one, you'll have a much better idea of what to look for.
Find an affordable RV at RVShare
RV rentals through RVshare
Online services like RVshare make it easy to find rental RVs. Like the Airbnb of recreational vehicles, RVshare allows you to search for available vehicles and rent them directly from the owner.
You can even get the RV delivered right to your door.
RVshare is the first and largest peer-to-peer RV rental marketplace. Founded in 2013, the company has more than 100,000 vehicles available – everything from affordable travel trailers to luxury motorhomes that can accommodate any adventure in comfort and style. You might technically be camping, but that doesn't mean you'll be roughing it.
Vacation home or RV rental?
In many ways, booking an RVshare RV rental is just like organizing a stay in a regular vacation home.
Plug in your dates, price range and location, then filter results by the type of RV (drivable motorhomes vs. towable travel trailers and popups) or the amenities you need (number of beds, pet-friendly, specific kitchen amenities, etc.). The owner will make sure the RV is neat and clean before your stay.
Choose your perfect vacation home on wheels
Benefits of RV travel
RV travel has always been a convenient way to roll your vacation transportation and lodging into one.
No need to bother with flight delays and lost luggage at the airport.
No sweating over fiddly tent setups and primitive cooking conditions at a campground.
You can skip the uncomfortable or noisy motels, bad or over-priced road food, and emergency bathroom breaks at dodgy gas stations in the middle of nowhere.
The benefits are magnified for travelers who still aren't comfortable in crowds and want to maintain social distancing practices – especially if they haven't been vaccinated. Because of this, RV travel has been steadily rising in popularity since 2020. In fact, almost of 80% of renters in 2020 were new to the RVshare platform.
With an RV rental, you have your own self-contained unit for traveling, sleeping, eating and using the bathroom. That means you can avoid crowded rest stops on your road trips.
You won't need to wear a mask when you travel or worry about washing your hands all the time.
You can bypass the hotels with their communal elevators and facilities, and pass up unmasked indoor restaurant dining for cooking with groceries you brought from home. (Or takeout at your comfortable dinette.)
Surround yourself with plenty of space in your RVShare rental
Planning for your RV getaway
Once you have chosen your perfect camper at RVShare, now you need to reserve your camping spot.
Before you leave on your RV road trip, visit campground reservations sites such at ReserveAmerica.com, which has many state parks and private campgrounds, or Recreation.gov, which is exclusively for booking at the many awesome Corps of Engineers campgrounds around the U.S.
You'll want to reserve in advance because camping is still a hot trend for vacations this year.
Full hookup sites – those including electric, water, and sewer – often sell out first at many campgrounds.
When booking a spot, you'll need to know the length of your rental camper and what types of hookups it has. For example, if you're renting a high-end RV, you might need a 50 amp electrical service and room for a 30-foot camper with slide-outs.
Map out acceptable overnight parking places before you go. (Did you know that Walmarts, truck stops and casinos are among the places that welcome RVs?) Consider making your overnight campground reservations in advance too, in case some are limiting campers or selling out from high demand.
Book Your RV Rental at RVshare.com and reserve your campsite today!
Where can you travel in an RV?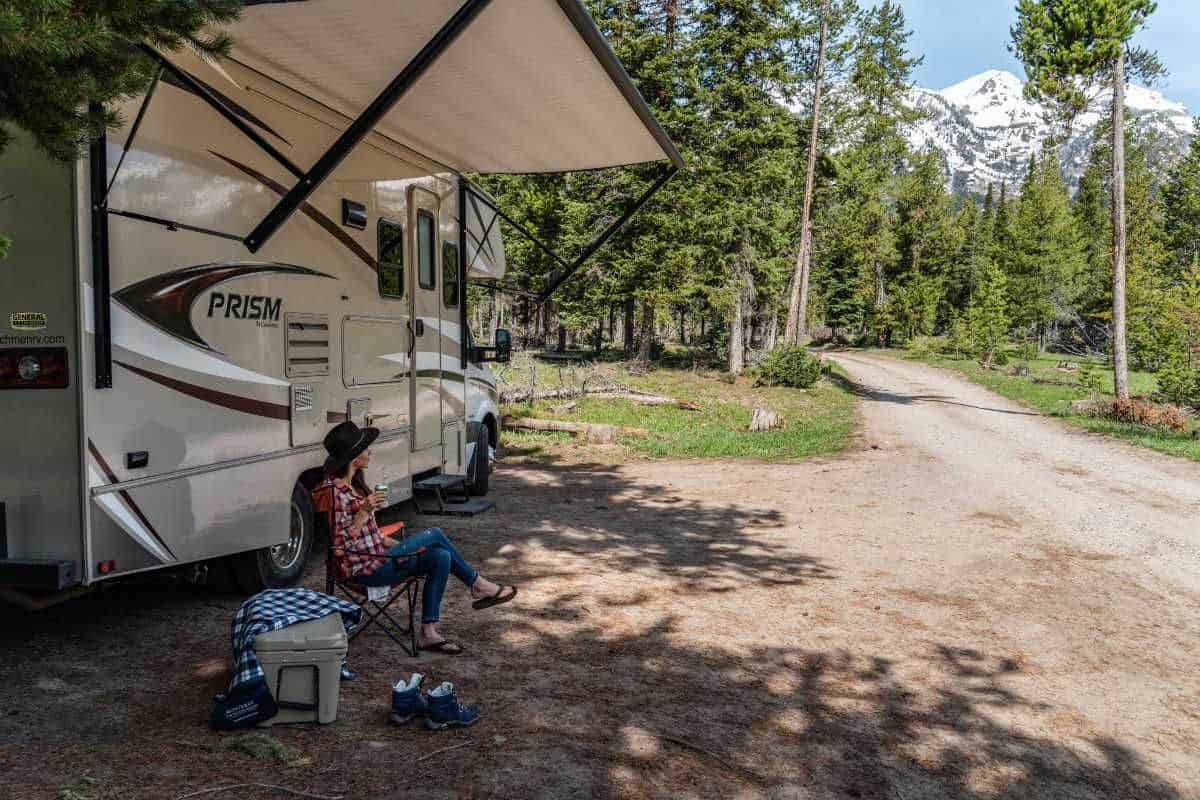 You can take your RV anywhere you're willing to drive to from your home, so the options, both near and far, are abundant.
You can choose to tow or drive your rental, or look for delivery and setup rental options near the campground or RV park of your choice.
National parks: National parks and other nature-based destinations are extremely popular year-round. Families want a 360-degree view and space to roam and explore. The great outdoors is the perfect place to social distance. The areas near national and state parks are typically flush with campgrounds that welcome RVs.
RVshare reports that the top national park destinations for RVers are Yellowstone, Grand Canyon, Zion, Great Smoky Mountains and Sequoia National Parks.
Beach: The beach is always a top summer vacation destination, whether it's on an ocean or a lake, but you might actually enjoy southern beaches just as much (or more) during the cooler weather of fall. You can find some RV-friendly campgrounds at or near the beach. RVshare maintains a list of some of the best waterfront RV campgrounds, or you can search for sites with hookups near your favorite beach town.
Family visits: If haven't seen your family since last year, a visit to your relatives might be in the cards this summer. Bring your RV lodging with you so you can socialize outdoors and not have to crowd into spare bedrooms and sleep on floors. Just be sure to check rules about acceptable places to park an RV in your relatives' hometown. Some cities have restrictions on RV parking.
Road trip: Got lots of time? Plan an epic coast-to-coast road trip around the United States in a recreational vehicle from RVshare. Visit iconic attractions across the country or crazy ones, like the Biggest Ball of Twine or Carhenge.
Video: Own an RV? Put it to work in the off-season and boost your income.
Don't let your RV sit idle in storage this season! List it on RVshare and help ensure that families, medical professionals, and others have a home away from home this season – all while earning some money for you. List Your RV for Free on RVshare