Seafood lovers will want to hook these deals, before the sun sets. Red Lobster just introduced five early dining specials — perfect for those who prefer their savings (and seafood) during the day. Even better, these offers are a permanent fixture on its menu, not for-a-limited-time.
The daily deals are only valid Monday through Friday from 11 a.m. to 6 p.m., so plan accordingly. (The only exception is the Tuesday deal, which is available all day.)
Red Lobster is often the restaurant destination for special occasions, including birthdays, anniversaries and graduations. Thanks to these daylight deals, friends and family might consider organizing a daytime gathering and use the extra savings on a gift.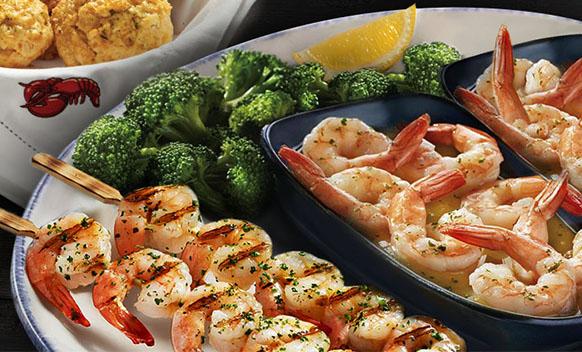 Endless Shrimp Monday — Mix-and-match Shrimp Scampi, Fried Shrimp and Grilled Shrimp Skewer endlessly for just $15.
To Go Tuesday — Enjoy your seafood favorites from the comfort of your home or office with 15% off online to-go orders – all day long. Place your order at RedLobsterToGo.com using promo code TUESDAY.
Four-Course Wednesday — Get Red Lobster's famous 4-Course Feast, with soup, salad, entrée and dessert for only $15.
Petite Ultimate Feast Thursday – Smaller portions, but just as "ultimate." Dive into a petite Maine lobster tail, wild-caught snow crab legs, garlic shrimp scampi and Walt's Favorite Shrimp for just $20.
Fish Fry Friday – Celebrate the start of the weekend with Fish Fry Friday for $10.
Hungry for more food deals? Find them here:
Saturday, December 2, 2023
Sunday, December 3, 2023
Monday, December 4, 2023
Tuesday, December 5, 2023
Wednesday, December 6, 2023
Thursday, December 7, 2023
Friday, December 8, 2023