When Halloween is done and it's time to dispose of your carved pumpkins, keep yours from ending up in a landfill while having fun. Head to Idaho Springs on Saturday, November 4, 2023, for the Pumpkin SMASH. Entry and most activities are FREE including the Smash Center where you can release your post-Halloween disappointment that you didn't get enough Reese's peanut butter cups or full-size Hershey bars.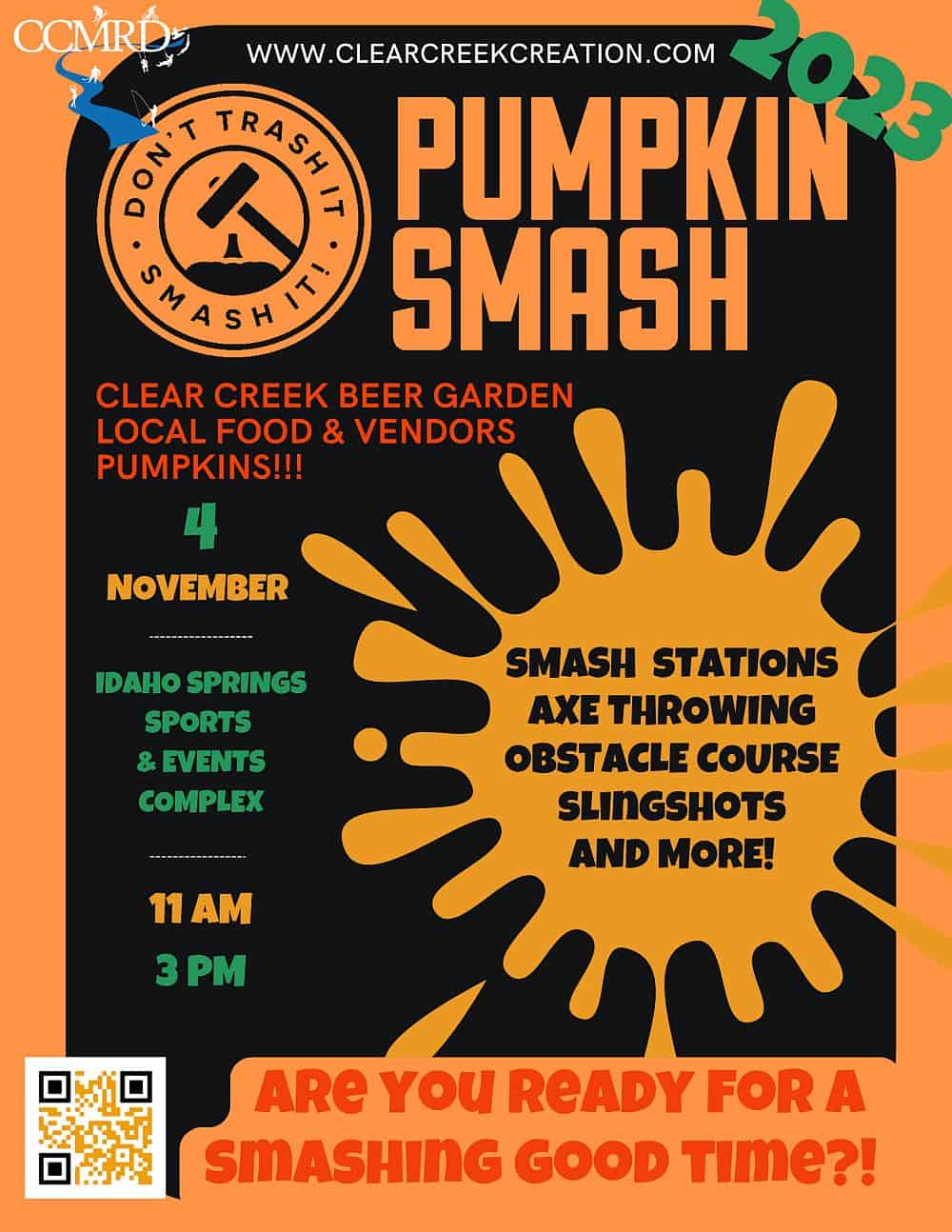 Pumpkin SMASH runs from 11 a.m. to 3 p.m. at the Idaho Springs Sports & Events Complex. All pumpkins smashed at the event will be taken to a commercial compositing site (and stopped from becoming trash.)
Everyone is welcome, but you can reserve your spot here.
Pumpkin SMASH 2023 activities include:
Axe Throwing (Hosted by Throw2Go)
Smash Center
Slingshots
S'mores
Obstacle Course
Pumpkin Hole
Chicken Poo Bingo (with prizes) (additional fee)
Face Painting (additional fee)
When you are ready for a break from all the fun, you can warm up around the fire pits, with a Pumpkin Beer from Tommyknockers Brewery or spiced cider crafted by The Spice & Tea Exchange. There will also be food and drinks for sale.
Parking & Shuttle Information
Parking directly next to the site is very limited. Please plan to utilize the FREE shuttle service that will be running from 10:45 a.m. to 3:30 p.m. Locals are asked to walk or bike to the event!
Please do NOT park in any spaces that are marked residential. Please note that parking in several of the areas listed below are Paid Parking.
Shuttle service will start at 10:30 am. Last return shuttle will be at 3pm. Shuttle's will pick up at the following locations throughout the day:
Macey Ruth Mill Park
Clear Creek Rec Center (98 12th Avenue)– This is Main Overflow Parking. Please park in the dirt lot located by the Rec Center if possible.
Hwy 103 City Lot (paid parking)
Corner of 17th & Colorado
Courtney Riley Park (2350 Colorado Blvd)
101 East Idaho Springs Rd., Idaho Springs.