Now's the time to shop! Long rumored for years, Pier 1 Imports is finally closing its doors for good. The home décor retailer has begun its going-out-of-business sale, which is expected to run through sometime in September. The shelves are full of merchandise now, so it's the perfect time to shop for the best selection. However, bargain hunters know to play the waiting game for bigger savings.
As with most close-out sales, the discounts get bigger as the final business day approaches.
The store is expected to close Wednesday, September 23. We've checked multiple locations and the shelves are about a third full. The stock on hand varies widely by location. Most of the furniture is gone, but there are still a few pieces left — mostly chairs and some coffee tables and cabinets. Some locations may close earlier, if they sell out.
As of now, most everything is up to 70% off – with discounts varying by department. There were also some bonus discounts of an additional 10% off with the purchase of more than one item from select categories. The current discounts are posted in-store, so look for the signage before going on a shopping spree.
Many diehard cheapskates don't consider close-out sales of any value until they hit 50% off or more. You may want to wait until late August for bigger savings, though the selection may not be quite as good.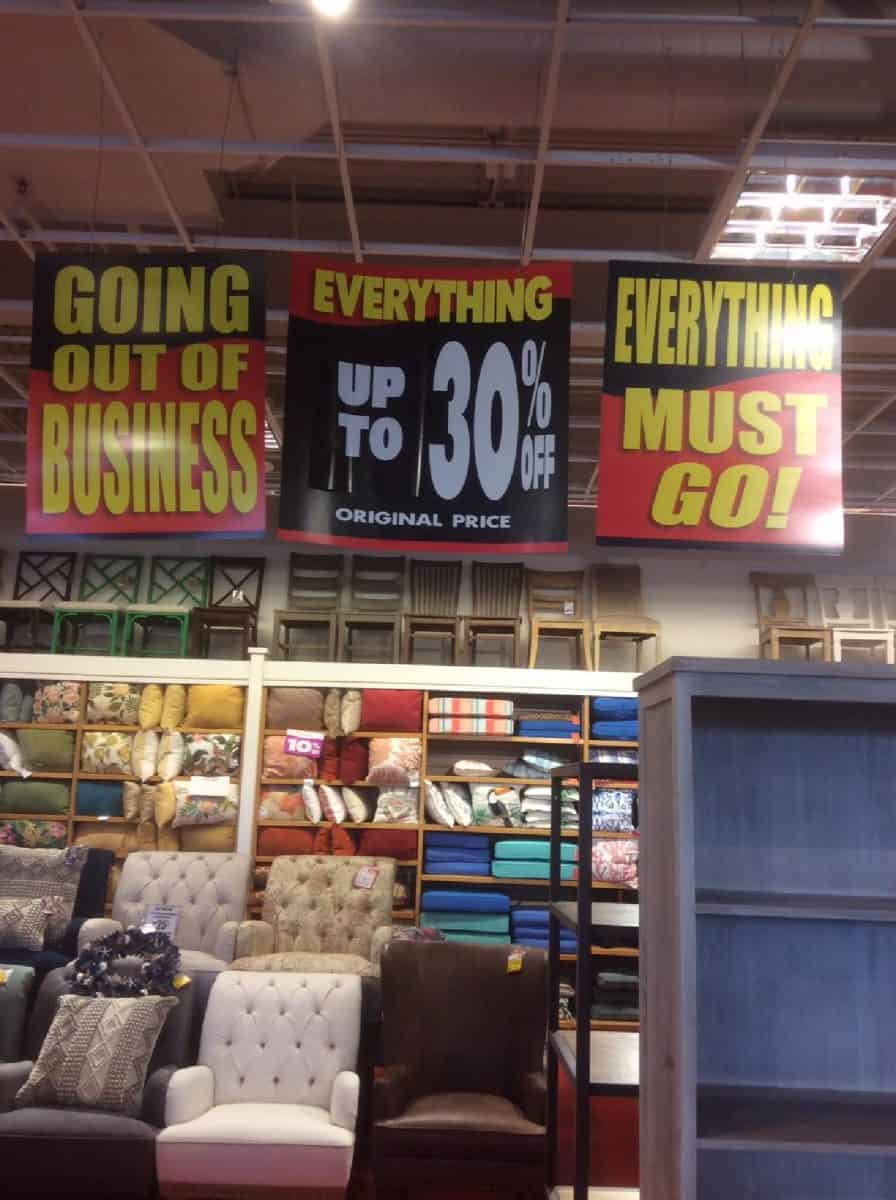 There are 8 locations in Colorado.
Denver – 2780 S. Colorado Blvd., 303-300-1529 CLOSED
Durango – 800 S. Camino Del Rio, 970-385-4927
Fort Collins – 4336 S. College Ave., 970-266-1840
Grand Junction – 2454 Hwy. 6 And 50, 970-243-9544
Lakewood – 14105 West Colfax Dr., 303-279-8134
Lone Tree – 8360 S. Willow St., 303-768-0171
Loveland – 1695 Rocky Mountain Ave., 970-613-9506
Thornton – 16535 Washington St., 303-252-8709
The stores are now open daily from noon to 7 p.m. However, hours may vary by location.