CANCELLED FOR 2019. The annual People's Fair takes over Civic Center Park from Friday through Sunday, June 1 to 3, with a schedule packed full of FREE entertainment. A new Friday night kick-off concert is followed by two full days of vendors and events centered on celebrating the best of the Mile High City, ranging from music and culture — including performances from Moon Taxi and Trout Steak Revival — to fitness and food and beverage, including food trucks and a local beer and wine garden.
Here's a map of the Festival.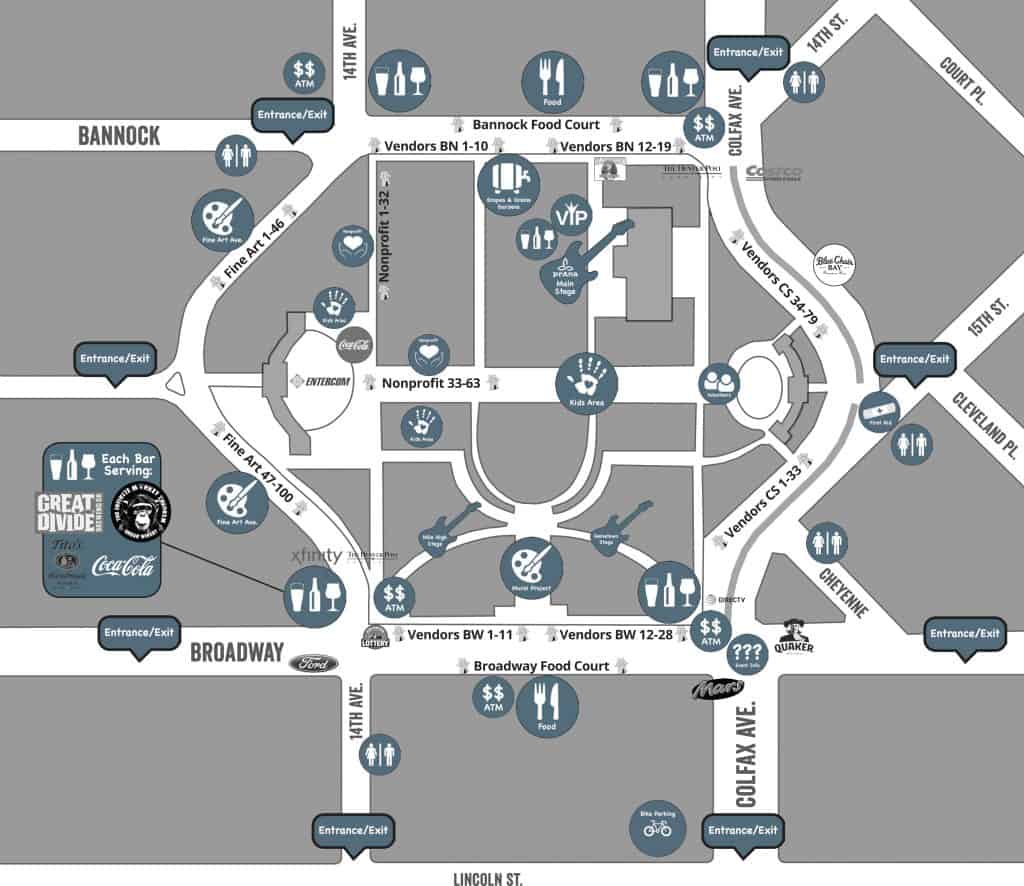 The Friday kickoff concert will be open for food and music only near the Main Stage. Performers include Emelise Munoz, Optcynerd, Modern Suspects and the headline is Max, a New York City born pop-soul singer, actor and dancer. The Friday kickoff concert is at an enclosed venue at Civic Center Park and the concert ticket is $5.
Free concerts take place throughout the weekend, including a full day of bluegrass on the festival's main stage on Saturday. In addition, Moon Taxi will make its only Colorado appearance this summer at 4:30 p.m. on Sunday.
Other live entertainment showcases an array of Denver talent such as performances from Dazzling Divas Drag Show, Colorado Mestizo Dancers and ballet to belly dancing.
A new makers marketplace will showcase merchandise from a curated selection of Denver's diverse artisans, ranging from apparel to jewelry to home goods and culinary treats. A fine art show features more than 100 artists working in ceramics, photography, mixed media, glass, painting, wood, sculpture and more.
The Grapes & Grains Garden offers a variety of specialty beer from Great Divide and wine tastings. Some of Denverites favorite food trucks will be on site including Mac 'N Noodles, California Wrap Runner, Goin' South and Dude Bro Taco.
On the fitness side, you'll find free yoga classes at 10:30 a.m. Saturday and Sunday. The Outdoor Adventure Fest boasts a climbing wall, kayak pool and more.
Admission to People's Fair is FREE Saturday and Sunday. Any food or beverage is purchased separately. Hours are Friday concert 5 p.m. to 10 p.m., Saturday 10 a.m. to 8 p.m. and Sunday 10 a.m. to 7 p.m.
Tickets are needed for rides, food and beverages. Here's a full schedule of performances. With more than 200,000 people are expected, it might be wise to use public transportation or ride your bike.
Secure bike parking will be located on the southwest corner of Lincoln St. and Colfax Ave. for a minimal donation. 101 W. 14th Ave., Denver.