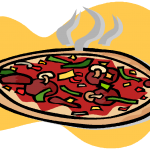 Does your sweetie pie love pizza pie? If so, Papa Murphy's has a lovely (and crusty!) offer for you. Any way you slice it, Valentine's Day is about spending time with your loved ones, including friends and family. And one of the best ways to share the love is by gathering around the dinner table with everyone's favorite — pizza!
From Sunday, February 7 to Sunday, February 14, Papa Murphy's is offering its popular "HeartBaker" pizza for just $9 at participating locations — both online and in-store. (Note: The pizza may be $11 at some locations.) The lovely pizza is perfect for Valentine's Day date night or celebrating the holiday with the whole family.
The large pizza, formed in the shape of a heart, comes with pepperoni and cheese. Remember, Papa Murphy's is a "take 'n' bake" joint, so allow enough time for things to heat up…by which, we mean the oven at 425°.
For an even sweeter deal, customers may also choose to bring home the Sweetheart of a Deal, which includes a HeartBaker Pizza and chocolate chip cookie dough for just $13.
For locations in Colorado, click here.
Hungry for more food deals?
Wednesday, December 6, 2023
Thursday, December 7, 2023
Friday, December 8, 2023
Saturday, December 9, 2023
Sunday, December 10, 2023
Monday, December 11, 2023
Tuesday, December 12, 2023