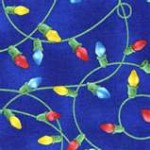 Olde Golden Christmas continues its tradition of a candlelight walk on Friday, December 6, with hundreds of locals and visitors caroling their way down Washington Avenue, candles in hand. As they pass each block, holiday lights are illuminated. The walkers continue until they reach Golden's Parfet Park where Santa flips a switch to ignite thousands of lights along Clear Creek and in the "Chamber Tree," a massive Blue Spruce that glows with approximately two miles of holiday lights. The lights will illuminate the night through January 1, 2020.
If you want to participate, gather at Foothills Art Center (15th and Arapahoe Streets) at 6 p.m. for pre-walk caroling, music and pictures with Santa. The Golden Chamber of Commerce sells candles and glow sticks for $1 . The walk itself starts promptly at 6:30 p.m.
The Golden Lions Club will be serving hot beverages and cookies, compliments of Safeway, at the top and bottom of the hill.
During the walk, you can listen and sing along with holiday songs. The City of Golden will then put on a brief fireworks show directly after the walk just above the Golden Hotel.
After the walk, be sure to visit the Holiday Square (aka the Visitors Center parking lot). Santa and his reindeer will be on hand.
Stick around after the show. The Golden History Museum and Park will be open to the public for FREE from 7 p.m. to 9 p.m. Stroll through the museum and take a selfie in the "Epic Events" exhibit or listen to cheery holiday music.
Visit the History Park and try a roasted chestnut. Explore the inside of the Pearce/Helps Cabin, warm up at the wood stove, watch live blacksmithing, and enjoy music and singing.
Plus, many local merchants will be open and feature holiday treats and entertainment.
More Holiday Fun