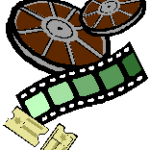 To hell with "all is calm." Violent Night is a coal-dark holiday action-comedy that says you should always bet on red. When a team of mercenaries breaks into a wealthy family compound on Christmas Eve, taking everyone inside hostage, the team isn't prepared for a surprise combatant: Santa Claus (David Harbour) is on the grounds, and he's about to show why this Nick is no saint.

The film also stars Emmy winner John Leguizamo, Cam Gigandet, Alex Hassell, Alexis Louder , Edi Patterson and Beverly D'Angelo (National Lampoon's Vacation franchise).
MHOTC readers can attend a FREE sneak preview of the film on Tuesday, November 29, 2022, at 7 p.m. at Regal Continental Stadium & RPX.
Click here to download and print an admit-two pass.
These passes are limited in number, so please don't abuse the system and get yours now – if this movie interests you. Once our limit has been reached, the system won't issue any more.
IMPORTANT! Passes do NOT guarantee admission as theater may be overbooked.