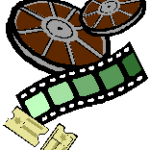 Welcome to Easter Cove, a salty fishing village on the far reaches of Maine's rocky coast. Grieving the loss of their mother and facing an uncertain future, Mary Beth and Priscilla Connolly cover up a gruesome run-in with a dangerous man. To conceal their crime, the sisters must go deeper into Easter Cove's underbelly and uncover the town matriarchs' darkest secrets. Blow The Man Down will be available exclusively on Amazon Prime Video on March 20.

This movie is for Noir film fans, fans of sharp-writing, The Coen Brothers and "smart-house" people.
MHOTC readers have the chance to attend a FREE advance screening on Wednesday, March 18 at 7 p.m. at Landmark Greenwood Village. Everyone who attends gets free popcorn and soda. To enter for a pass, click here.
Entry deadline is end of day on Sunday, March 15 at 6 a.m. Winners will be notified by email within a day.
Sneak previews are always overbooked to ensure a full house. As a result, a pass does not guarantee a seat, so arrive early.
To learn more about movie screenings, review our Movie Previews 101 Guide.