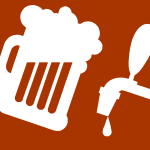 A fee now applies to all visitors taking the Coors Brewery tour. Visitors and locals alike can learn a lot about traditional brewing in a short time from one of Colorado's best. (Did you know they've been brewing beer since 1873?) The 90-minute, narrated walk-through of the malting, brewing and packaging areas at the giant MillerCoors Brewery in Golden is a short course in beer production. After the tour, visitors 21 years and older (with ID) can sample some of the beers in the new hospitality lounge.
Brewery tours are offered Friday, Saturday & Sunday from 10 a.m. to 3:30 p.m.
The tour is now $20 for adults 21+ (with valid ID), those 3 to 20 are $10, active duty or veterans with military ID are also $10.
Visitors who are 21 years and older, with a valid government issued ID, receive three samples in branded recyclable aluminum cups that you can take home. Non-alcoholic beverages also are available.
Reservations are required and can be made online. Groups sizes will be limited.
Tours begin in the southeast corner of the visitor parking lot at 13th & Ford St.
Tours are not held on holidays so be sure to check the booking calendar.