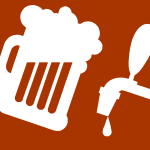 A fee applies to visitors 21+ taking the Coors Brewery tour. Visitors and locals alike can learn a lot about traditional brewing in a short time from one of Colorado's best. (Did you know they've been brewing beer since 1873?) The 30-minute, narrated walk-through of the malting, brewing and packaging areas at the giant MillerCoors Brewery in Golden is a short course in beer production. After the tour, visitors 21 years and older (with ID) can sample some of the beers in the hospitality lounge.
Brewery tours are offered in the summer (May 28 to September 2) Monday to Saturday from 10 a.m. to 4 p.m. and Sunday from noon to 4 p.m. and the rest of the year Thursday through Monday from 10 a.m. to 4 p.m. and Sundays from noon to 4 p.m.
The tour is $5 for Colorado residents and $10 for other visitors, and no charge for active duty or veterans with military ID. All visitors over age 21 may opt for a short tour (samples only) or the full tour experience, and they are all eligible to enjoy three 8 oz. samples and receive a commemorative glass.
Employees and retirees and their family (when escorted by employee/retiree with their Miller/Coors ID badge) get FREE admission.
Tours begin in the southeast corner of the visitor parking lot at 13th & Ford St. In addition, tours do not operate on holidays, so it's always best to call the tour hotline in advance (866-812-2337) to confirm the schedule.