Trick-or-doughnut! Can you make Halloween any sweeter? Well, Krispy Kreme is doing just that with its latest holiday offers. First, Krispy Kreme is introducing a new batch of monster doughnuts — available starting Monday, October 5. The chain's Scary Sweet Monster Doughnuts are a sweet take on three classic Halloween monsters, including:
Frank Monster Doughnut
A doughnut filled with Original Kreme, dipped in green icing and decorated like a classic monster with icing, sprinkles, and pretzel piece "bolts."
Drake Monster Doughnut
A doughnut with raspberry filling, dipped in light purple icing and decorated like a classic monster with icing and sugar piece eyes. ​
Wolfie Monster Doughnut
An Original Glazed doughnut dipped in chocolate icing and decorated like a werewolf with Chocolate Kreme, a sugar piece face and cinnamon sugar cereal ears.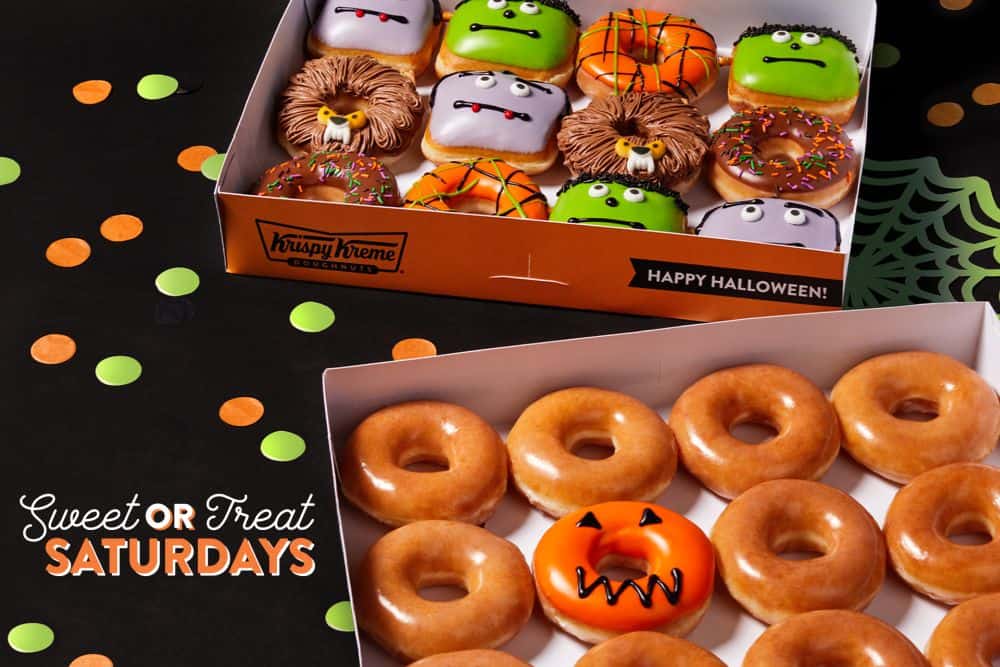 Plus, every Saturday from October 10 to 31, Krispy Kreme is hosting "Sweet-or-Treat" Saturdays, customers can get a Sweet-or-Treat dozen for just $1 with the purchase of any dozen.
The special dozen includes a special edition Jack-o'-Lantern Doughnut. It's the perfect way for families to treat themselves or share with friends and neighbors.
As an added sweet surprise, kids of all ages who wear their costume on Halloween, October 31 get a FREE doughnut of choice.
All of the not-so-scary offers are available at participating locations, while supplies last.
There are three locations in Colorado — Denver, Lone Tree and Thornton.
Hungry for more food deals?
Sunday, December 3, 2023
Monday, December 4, 2023
Tuesday, December 5, 2023
Wednesday, December 6, 2023
Thursday, December 7, 2023
Friday, December 8, 2023
Saturday, December 9, 2023