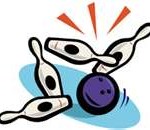 You'll be bowled over by this freebie from Kids Bowl Free. Through September (start and end dates vary by location), kids 15 and younger can bowl two games every day FREE. This program is designed by bowling centers to give back to the community and provide a safe, secure, and fun way for kids to spend time this summer. Participating bowling centers include:
Chipper's Lanes in Broomfield
Chipper's Lanes in Estes Park
The Summit in Thornton
Chipper's Lanes College and Horsetooth in Fort Collins
Hours vary by location and you must be registered in the Kids Bowl Free program at the specific lane. Shoe rental is required, but not included. Some bowling centers sell unlimited shoe rental passes.
Find details and register here to get the required coupons via e-mail.
Here are more kid-friendly events:
Sunday, December 3, 2023
Tuesday, December 5, 2023
Wednesday, December 6, 2023
Thursday, December 7, 2023
Friday, December 8, 2023
Saturday, December 9, 2023
Tuesday, December 12, 2023
Wednesday, December 13, 2023
Thursday, December 14, 2023
Friday, December 15, 2023
Saturday, December 16, 2023