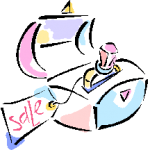 We all know fine jewelry is expensive, right? Not when you buy from Jewels for Hope. The group collects pre-owned jewelry and holds sales throughout the year with proceeds going to the Children's Diabetes Foundation at Denver. You'll find plenty of bling at their "Spring Cleaning Sale" on Saturday, March 19 from 11 a.m. to 4 p.m. at Crazy Merchant.
Among the Hot Deals:
All $10 rings — Buy 1, Get 2 FREE
All $10 earrings — Buy 1, Get 2 FREE
All $10 bracelets — Buy 1, Get 2 FREE
All $10 necklaces — Buy 1, Get 2 FREE
I've has been to several of their sales and can say that there are some real "gems" to be had. Jewelry ranges from vintage to contemporary, diamonds to rhinestones and the prices are really reasonable (no 300% markups, here).
1700 W. Belleview Ave., Littleton.