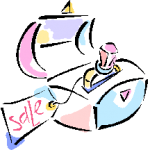 The Denver Women's Press Club annual vintage jewelry sale has become one of the "not to be missed" events of the year. This sale features styles from contemporary to estate to costume, all donated by club members and local supporters. Past one-of-a-kind accessories have included rings, necklaces, bracelets, earrings, cuff links, watches, brooches, loose beads and men's accessories — all deeply discounted.
The proceeds go to support scholarships for young women studying journalism and creative writing at the college level. The sale is on Saturday, November 19, 2022, from 10 a.m. to 4 p.m.
Free parking is available in the lot north of the clubhouse. 1325 Logan St., Denver, 303-839-1519.