No need to go to Holland to see thousands tulips in a rainbow of colors, and no need to visit a distant theme park to engage small children's fancy. Just head to the 1300 block of Boulder's Pearl Street Mall, where more than 15,000 thousand tulips are blooming gloriously and a favorite family event takes place on Sunday, April 26, 1 p.m. to 5 p.m.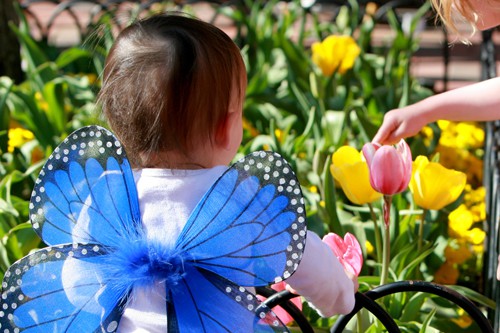 The annual Tulip Fairy and Elf Festival features the lovely Tulip Fairy presiding, as little girls dressed in fairy outfits, wings and all, and little boys in elf costumes gather on the Mall for FREE activities that include face painting, foam-sword dueling, collaborative art projects, nature-related activities and live kid-friendly performances.
Parking is FREE on Sundays in all Boulder municipal garages and at on-street meters. Rain (or snow) date is May 3. Should the festival be rescheduled, organizers will make an announcement by 10 a.m. on April 26.
More Kid-centric Fun
Sunday, March 7, 2021
Monday, March 8, 2021
Tuesday, March 9, 2021
Wednesday, March 10, 2021
Thursday, March 11, 2021
Friday, March 12, 2021
Saturday, March 13, 2021