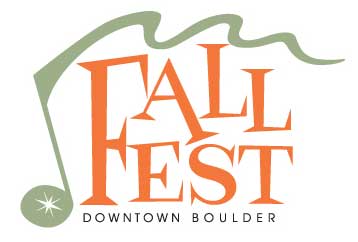 Downtown Boulder's Pearl Street Mall kicks into festival mode once again for the 30th annual FallFest from Friday to Sunday, September 15 to 17. Admission and live entertainment is FREE. The musical lineup includes The Wendy Woo Band, Native Station, Zen Mustache, VooDoo Kings and Message in a Bottle: The Police Tribute and more.
Peruse the Firefly Handmade Market with more than 120 artisans' booths selling home goods, fine craft, art, ceramics, skin care, children's and adult fashion, leather goods, jewelry, pet goods, and artisanal food and beverages. And visit Mall merchants many of which also offer FallFest specials.
Two big attractions flank the county courthouse on the 1300 block. The Beer, Wine, Margarita & Food Garden for adults features brews ($5) from local Avery Brewing Company, margaritas ($8) from the Rio Grande Mexican Restaurant and wine. Local food will be available from Boulder Bowls, Falafel King, Fast Eddie's Hot Dogs and McDevitt Taco Supply.
The Children's Activity Area (featuring an obstacle course, climbing wall, bounce house, hamster balls and bungee tramp) is on 14th and does have a nominal cost for join in. On Friday evening, $15 buys unlimited fun. On Saturday and Sunday, attraction tickets are $1 each or 22 for $20. Most activities require 1 to 3 tickets.
Festival hours are Friday, September 15, 5 p.m. to 10 p.m.; Saturday, September 16, 10 a.m. to 10 p.m. and Sunday, September 17, 11 a.m. to 5 p.m. Parking in downtown garages is FREE on Saturdays and Sundays.