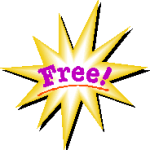 The Arapahoe Libraries offers FREE Exploration Passes good for admission to the Butterfly Pavilion, Wings Over The Rockies Air & Space Museum, Denver Museum of Nature & Science, Four Mile Historic Park, Morrison Natural History Museum, Rocky Mountain Quilt Museum, the Molly Brown House, Clyfford Still Museum and Dinosaur Ridge. Passes are available in limited quantities each day and allow different numbers of people to enter the attraction at no cost.
Note that you must have a current AL library card (you'll need the number handy to get your pass) but any Colorado resident can get a card as long as you present some sort of photo ID at any one of their library locations.
To access the list, go here and click on the words Exploration Pass to the left of the library card icon. Because the Exploration Pass page can be sorted by date, the simplest method is to pick your day and see what's available.
Be sure to read the "Pass Information" for each attraction. Some passes admit four people, others only two. And you are limited in the number you can get in a 30-day period.