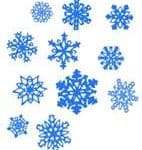 Thornton's Carpenter Park Fields turn into Santa's Village, home to Thornton WinterFest on Friday to Sunday, December 9 to 11. Santa and his elves arrive on Friday at 6:30 p.m. to assist the Mayor and City Council member with flipping on the Village's holiday light. Festivities including ice skating (for a nominal fee), entertainment, ice-carving demo, and more, continue that evening until 9 p.m.
On Saturday, Santa's Village is open from 10 a.m. to 9 p.m. Visit Santa, enjoy carnival games and children's crafts and ice skating on the village pond from 10 a.m. to 8:30 p.m.
The Village's Event Tent magically transforms into the Village Holiday Bazaar on Saturday with a variety of vendors selling holiday gifts from 10 a.m. to 4 p.m.
You can also grab a bite (hot chocolate, pizza, kettle corn, sandwiches and more) at North Pole Nibbles.
Ice carving demonstrations run throughout the day courtesy the skilled artisans of "Dazzling Ice".
The Thornton Community Band performs at 7 p.m. Reserved seats are $2, general admission is free. Holiday fireworks launch at 8:30 p.m.
On Sunday, Santa's Village and many of the popular activities are available from 5 p.m. to 8:30 p.m.
Here's a complete schedule of events. Carpenter Park Fields is at 108th Ave., & Colorado Blvd., Thornton.
For more places to catch-up with Santa Claus, check out our See Santa page.
More Holiday Festivities