Starbucks is raising a holiday cup to thank customers, enjoy the final days of 2019 and welcome the new year. And what better way to celebrate than with a surprise party? Even better, everyone's invited! No need to RSVP, get dressed up or bring a gift — just show up at the right location. In fact, the popular café is the one giving away the gifts…FREE drinks!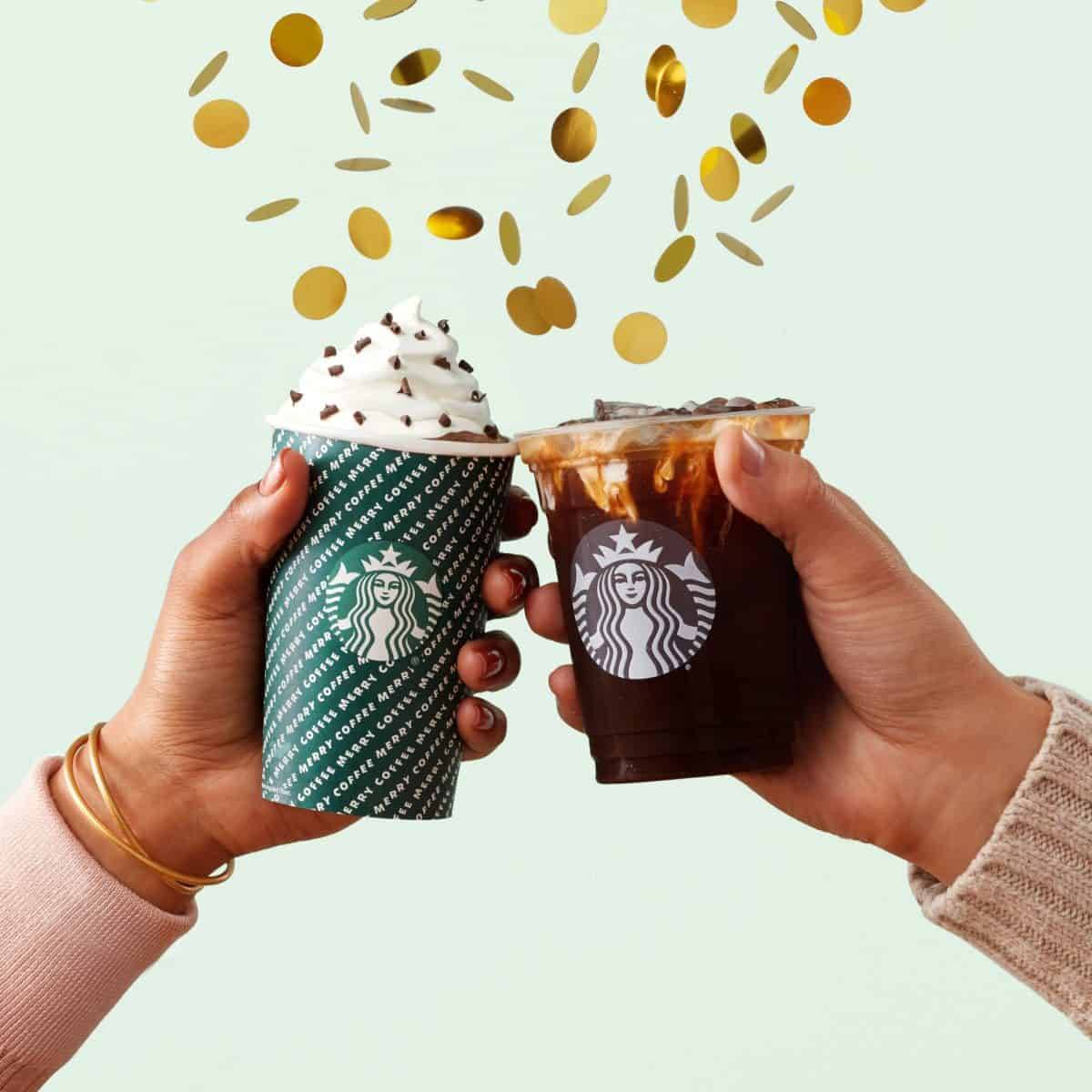 From Friday, December 27 to Tuesday, December 31, enjoy Starbucks' Pop-Up Parties from 1 p.m. to 2 p.m. at more than 200 cafés daily across the U.S., including the Denver metro area.
During the special party time, customers who visit a participating store will receive a FREE tall handcrafted espresso beverage of their choice (hot or iced), including Peppermint Mochas, Iced Toasted White Chocolate Mochas, lattes, macchiatos and more. Limit one per customer.
Remember, the party is not at every location — only at select cafés.
The participating locations for the day are announced here.
Friday, December 27
Arvada — 9901 W. 58th Ave. (at Kipling)
Aurora — King Soopers, 25701 E. Smoky Hill Rd.
Boulder — King Soopers, 3600 Table Mesa Dr.
Denver — 2000 S. University Blvd. (at Asbury), Suite B
Highlands Ranch — 1519 Park Center Dr. (at Lucent & Town Center)
Longmont — 2318 17th Ave. (at Hover)
Parker — King Soopers, 12959 S. Parker Rd.
Thornton — 635 Thornton Pkwy. (at Pearl)
Saturday, December 28
Colorado Springs — 1760 E. Cheyenne Mountain Blvd.
Denver — 1406 Larimer St.
Ft. Collins — 1708 S. College Ave.
Sunday, December 29
Arvada — 12395 W. 64th Ave. (at Ward)
Aurora — 1240 S. Buckley Rd. (at Mississippi)
Centennial — 15795 E. Arapahoe Rd. (at Parker Rd.)
Denver — 4500 W. 38th (at Highlands Garden)
Colorado Springs — 4296 Austin Bluffs Pkwy.
Colorado Springs — 13502 Struthers Rd.
Grand Junction — 1350 North Ave.
Monday, December 30
Denver — 303 16th St., Suite 100 (at Tremont)
Evergreen — 1005 El Rancho Rd. (at Swede Gulch)
Glendale — 410 S. Colorado Blvd. (at Virginia)
Westminster — 14456 Delaware St. (at I-25)
Loveland — 3135 N. Garfield Ave. (at Loveland Marketplace)
Colorado Springs — 5808 Barnes Rd.
Pueblo — 1500 4th St.
Tuesday, December 31
Denver — 5202 Federal Blvd. (at 52nd)
Denver — 500 S. Broadway (at Virginia)
Greenwood Village — 8000 E. Belleview, Ste. B-20 (at Ulster)
Lakewood — 92 Wadsworth Blvd. (at 1st)
Littleton — 7330 S. Broadway (at Dry Creek)
Superior — 100 S. Mccaslin Blvd., Ste. 1 (at Marshall)
Cheers!
Hungry for more food deals?
Monday, December 11, 2023
Tuesday, December 12, 2023
Wednesday, December 13, 2023
Thursday, December 14, 2023
Friday, December 15, 2023
Saturday, December 16, 2023
Sunday, December 17, 2023