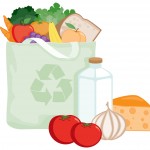 Bargain hunters always love a good buy-one-get-one sale, especially when the second item doesn't cost a dime. And it's not often Sprouts Farmers Market offers such a wide-ranging buy-one-get-one sale — only a few times a year. From August 30 to September 5, 2023, the popular grocery chain has hundreds of items on sale for buy-one-get-one FREE.
And, if you find any bare shelves or empty bins, ask a store employee for assistance, as there is often additional product waiting to be stocked. If not, ask for a rain check. (Did you know Sprouts' rain checks never expire?)
The FREE item must be of equal or lesser value. However, no mixing brands or product categories.
With so many items on sale, there are just too many products to list.
Here are some of our top buy-one-get-one FREE picks:
Chobani oat milk (52-oz.)
Chobani coffee creamer (24-oz.)
Zevia soda (6-pack, 12-oz. cans)
Late July tortilla chips (7.8-oz.)
Sprouts spices (sizes vary)
Chocolove chocolate bar (3.2-oz.)
Kettle Brand potato chips (7.5-oz.)
Nut Pods creamer (25.4-oz.)
RXBAR protein bar (1.83-oz.)
Jonny Pops frozen treats (4-pack)
Rao's Brick Oven Crust pizza (18.3-oz.)
Milton's cauliflower crust pizza (10-oz.)
Nixie organic sparkling water (8-pack, 12-oz. cans)
One With Nature bar soap (7-oz.)
Walden Farms salad dressing (12-oz.)
Tom's of Maine toothpaste (4-oz.)
Peace coffee (12-oz.)
Cosmic Bliss organic frozen dessert (14-oz.)
Babybel mini cheese (12-ct.)
Nubian Heritage lotion (13-oz.)
Check online for a full review of all the items included in the BOGO sale.
Now's the time to stock up because many specialty brands are included in the sale, which rarely (if ever) go on sale.
There are 32 locations in Colorado.
Check out our round-up of the Best Grocery Deals This Week in Denver.
Looking to bag more savings on groceries?
Sunday, November 26, 2023
Monday, November 27, 2023
Tuesday, November 28, 2023
Wednesday, November 29, 2023
Thursday, November 30, 2023
Friday, December 1, 2023
Saturday, December 2, 2023