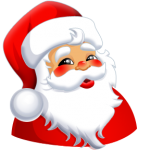 Kids can catch their first glimpse of Santa at Bass Pro Shops Denver's Santa's Wonderland Opening on Saturday, November 7. Now that Bass Pro owns Cabela's there are three simultaneous arrival parties (Santa's magic allows him to be at all three spots at the same time.) Festivities start about 5 p.m. with an Arrival Parade in front of each store.
Families are invited to a socially distanced tailgate event in designated parking spots with a free outdoor parade featuring giveaways, Christmas carols, hot cocoa and magical fun building up to the arrival of the big guy himself.
Locations:
Bass Pro Shops Northfield at Stapleton, 7970 Northfield Blvd., Denver.
Cabela's, 14050 Lincoln St., Thornton.
Cabela's, 10670 Cabela Dr., Lone Tree.
More Holiday Festivities
Friday, February 3, 2023
Saturday, February 4, 2023
Sunday, February 5, 2023
Monday, February 6, 2023
Tuesday, February 7, 2023
Wednesday, February 8, 2023
Thursday, February 9, 2023