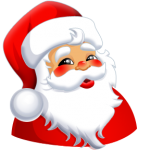 Kids can catch their first glimpse of Santa when he makes his Grand Entrance at Bass Pro Shops and Cabela's on Saturday, November 4, 2023. In case you're wondering how he can be at three simultaneous arrival parties, just know that Santa's magic allows him to be at all three spots at the same time. Festivities start about 5 p.m. with an Arrival Parade in front of each store.
There will be a parade, tree lighting, hot chocolate, cookies and free giveaways, including a Tic-Tac-Toe game and Puff Stickers to decorate your own Christmas tree or stocking craft.
Families can meet Santa as he opens Santa's Wonderland for the season. The next day the free photos begin!
Locations:
Bass Pro Shops Northfield at Stapleton, 7970 Northfield Blvd., Denver.
Cabela's, 14050 Lincoln St., Thornton.
Cabela's, 10670 Cabela Dr., Lone Tree.
More Holiday Festivities
Saturday, December 9, 2023
Sunday, December 10, 2023
Monday, December 11, 2023
Tuesday, December 12, 2023
Wednesday, December 13, 2023
Thursday, December 14, 2023
Friday, December 15, 2023