Step into the captivating world of Dr. Frank-N-Furter and his eccentric entourage as they sing, dance, and strut their way across the screen when the Historic Elitch Theatre presents the Rocky Horror Picture Show on Friday, October 27, 2023, at 7 p.m. Tickets are $15. Get ready to do the Time Warp again in the stunning, vintage surroundings of the historic theater, where every creak of the floorboards and whisper of the curtains adds to the antici…pation!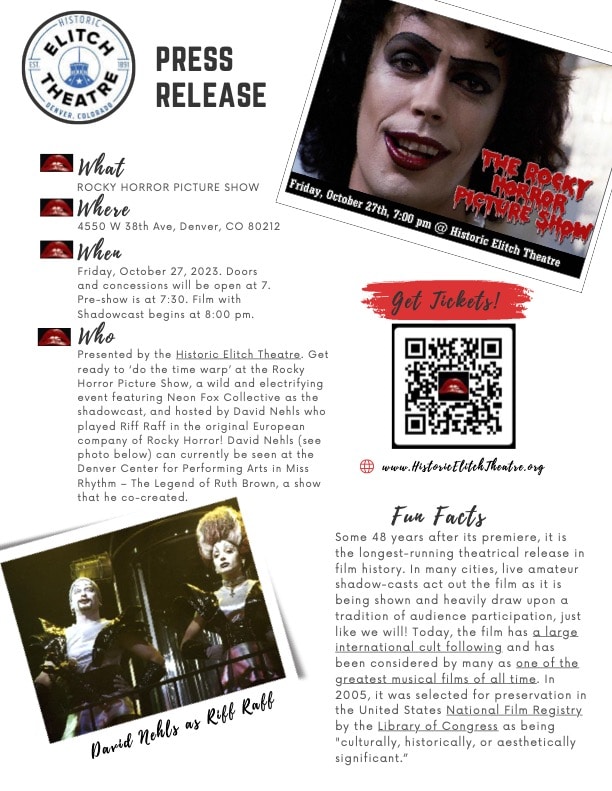 Neon Fox Collective will serve as shadowcast for the evening!
Whether you're a seasoned fan or a Rocky Horror newbie ("Virgin!") this irresistible evening of a cult classic and interactive fun is not to be missed.
Doors Open: Please note that the doors open at 7:00-ish (possibly a bit early) so we encourage you to arrive early and get your seats and get settled in for the show. The pre-show entertainment begins at 7:30 p.m. and the film begins at 8 p.m.
Seating: The seating is general admission and you will be able to choose your seat when you arrive. The chairs are from the 1950s and are not as padded, so please feel free to bring a chair pad or pillow if you are concerned about your comfort.
Concessions and Alcohol: There will be drinks, candy, snacks, popcorn and more available to purchase. All proceeds benefit the restoration of the Historic Elitch Theatre.
Because the theatre has a liquor license for the sale of alcohol, no outside alcohol can be brought into the theatre, but we will have beer and seltzers available for purchase. Again, NO OUTSIDE ALCOHOL will be permitted.
No Smoking/Vaping: This beautiful theatre is 132-years old! Please be respectful and go outside to the designated area to smoke/vape.
Parking: There is a designated parking lot behind the theatre building, as well as lots of public parking to the North and West of the theatre. Parking is shared with 24-Hour Fitness and Sprouts. There is also street parking near the theatre.
A/C and Heating: Since 1891 the theatre has only been used in the summer, so there is no heat in the building. If the event is on a chilly day, please dress warmly! Also, for summer events, there is no air conditioning so it can be a bit warm.
(RATED R: Children under 17 must be accompanied by a parent or adult guardian over the age of 21. ID is required for proof of age.)
You can buy tickets here.
4550 W 38th Ave., Denver.