Hang out in RiNo Art District for Halloweekend, highlighted by a fall art market with dancing, art, and local vendors on Saturday, October 28, 2023, from 1 p.m. to 5 p.m. at the Larimer & 29th St. closure. The festivities start on Friday, October 27 at Tracks/REELWORKS for Drag Nation: Carrie's Guide to Prom. Then, the Fall Art Market follows on Saturday, featuring 20+ vendors, live music and more.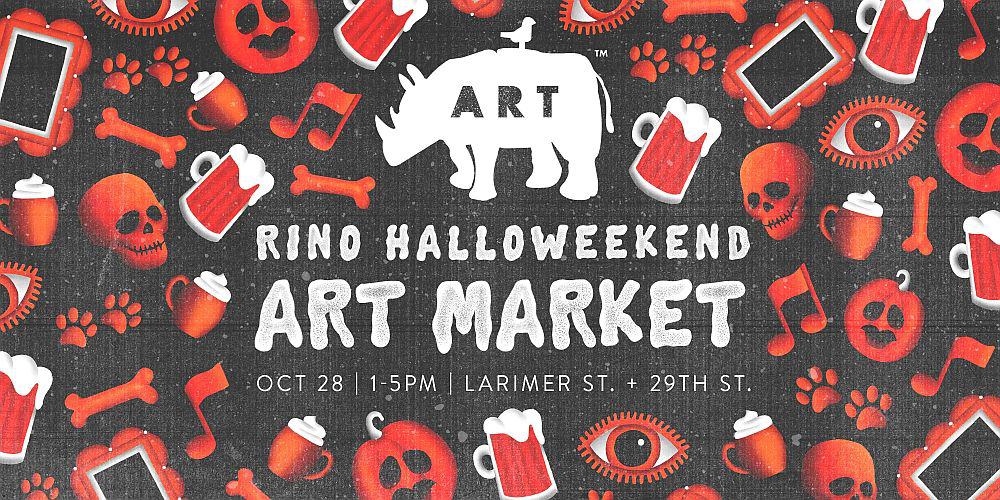 Here's what's in store on Saturday during the Fall Art Market:
Get lost in the jazzy vibes of namebackwards (1 p.m. to 3 p.m.) and then get funky with IAMGRUV (3 p.m. to 5 p.m.).
Show up right at 1 p.m. because the first 100 attendees will be able to make a limited-edition RiNo screen printed tote bag for FREE! Or, you can bring something else to screenprint — they welcome upcycled clothing!
Explore and support local Denver artists and vendors.
Deck your dog out in their best costume! Sploot Veterinary Care is sponsoring a Dog Costume Contest (2:30 p.m. to 3 p.m.) at their pop-up tent. Your dog could be entered to win the following:
1st Place: Free Exam + Sploot swag basket, filled with a fanny pack, bandanas, koozies, collapsible water bowls, and tennis balls
2nd Place: Mini swag basket with a koozie, bandanas, and tennis balls PLUS $50 off coupon
3rd Place: Tennis balls + $50 off coupon
Halloweekend Street Fair Vendors:
Sophia Eliana, LunaWire, Deep Space Violet, Seasons of Autumn, tinypavilion, Wall of Sound Murals + Evergreen Art School, The Love Stash, Gemini Vintage, Smoke & Oils Art, MP Creations, The Coffee Ban, Ms Margaret Maker, Daffodayle, Shantell Montoya, Sanguine Skills, The Pottery Head, Spell & Sage, Aberrant Jewelry Co., Denver Dinosaurs, Buena Vista Handmade, Max Coleman Design
2900 Block of Larimer (29th St & Larimer St), Denver.
More Fall Fun