That cowtown aroma (sweet to many) pervades the city as the National Western Complex returns to its roots hosting cowboys, ranchers and the curious who want to see a steer, or even a buffalo, up-close-and-personal during the National Western Stock Show, January 7 to 22, 2023. (Admit, it you just want to watch the cute little buckaroos compete in mutton bustin'.) Here's a round-up of ways to save on admission and while you are at the show.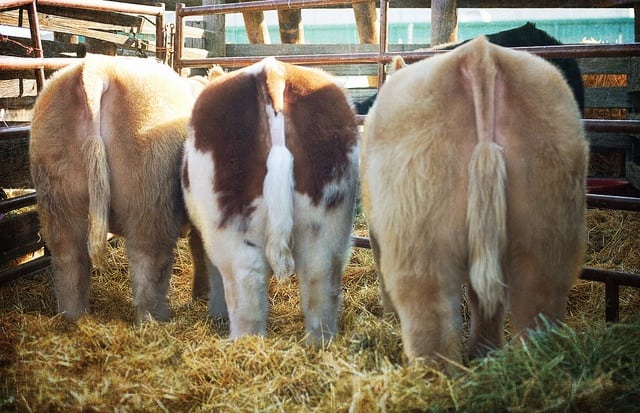 Save On National Western Stock Show Admission
Groupon has tickets to 28 different events from January 7 to 21, including rodeos, bull riding, Dancing Horses and Xtreme Dogs. Prices are $16 and up. Remember all Stock Show event tickets and packages include general gate admission and parking.
FREE Day is Tuesday, January 10. Thanks to Arrow Electronics, all attendees get FREE Grounds Admission. The free tickets are available at the National Western Box Office.
Guest Appreciation Day. Sunday, January 22 is the last day of Stock Show and Grounds Admission tickets are only $12 (normally $17 to $25) for adults. Kids 3-11 years old are $4. Kids 2 and under are FREE.
Guest Badges. For those who want unlimited general admission, the NWSS sells a Guest Badge for $70 that give you access all 16 days of the show. That works out to just over $4 per day.
Buy a Ticket Package. Beau Jo's Boots Night Out starts at $52 and includes 2 tickets and 2 Coors or Sodas plus $15 off $50 Beau Jo's purchase. Cavender's Family 4-Pack starts at $88 and includes 4 tickets, 4 hot dogs, 4 bags of chips & 4 Sodas plus $25 off $100 Cavender's purchase.
Save on National Western Stock Show Parking
This one is actually easy. Parking is FREE at National Western lots. Due to construction grounds lots are likely to fill quickly.
This year, you may also park for FREE at Coors Field in paved, well-lit lots dedicated to Stock Show attendees.
Access off of Park Ave. and Wazee St. Coors Field lots open at 8 a.m. daily with FREE shuttles taking guests the 10-minutes to the complex.
Stock Show guests should allow additional time before any ticketed event to navigate the grounds and anticipated crowds to get to the event on time, especially on weekends.
Also: The newly completed RTD N-Line stops at the National Western Center Station at the NW Complex. This stop is an easy walk or short shuttle ride to the front doors of the Stock Show. The N-Line route runs from Denver's Union Station to 124th & Eastlake in Thornton.
Grounds Admission Lets You Enjoy Tons Of Fun
If you don't want to see a rodeo or other ticketed event, Grounds Admission buys you a whole lot of fun. Tickets are $17 to $25 for ages 12+. Kids (3 to 11) pay $4 to $5 depending on day. Ages 2 and younger are FREE.
Grounds admission allows you to explore acres of exhibits, get up-close-and-personal with critters large and small, watch mutton bustin', enjoy fun events like sheep shearing, and, of course, shop the hundreds of vendors.
Ultimately, the National Western Stock Show is a 16-day livestock show, with more than 25 different breeds of cattle and many other species of livestock. Visitors can watch traditional competitions including breeding, market, and showmanship, or those primarily aimed for recreation or companionship (llamas, alpacas, poultry, and stock dogs). Find more about livestock shows here.
The Ames Activities Pavilion plays host to Top Hogs performances, Farmyard Follies, Local Rodeo Royalty Clinics, and Stick Horse Rodeos.
More than 60 barnyard animals will be on hand at the King Soopers Petting Farm. And, if you are lucky, there will be some baby animals in the National Western Nursery.
CSU Ag Adventure is the perfect place for children and adults to learn about the world of agriculture in a hands-on environment.
The Dairy Discovery Zone is a fun, interactive exhibit where the entire family can discover how your milk gets from the farm to the fridge.
Depending on the date you can also enjoy watching the Colorado Fiddle Championships, Stock Dog Trials, a Reined Cow Horse Show, Cinch Equicross Gymkhana and the always popular Mutton Bustin'.
Take A Stock Show Tour
Want to get a behind-the-scenes look at Stock Show? You can sign up for a fun, interactive one-hour tour that will take you into the heart of the Stock Show. The tours are FREE by registering at the Stock Show Tours table located near the main entrance of the Hall of Education.
We'll keep scouting for more savings, so keep checking back.