It's always good to get sandwiched by savings. On National Sandwich Day, there will be plenty of people celebrating by slathering their favorite condiments, along with meat and cheese, between two slices of bread. (Or with lots of veggies for our vegan and vegetarian friends.) Food holiday or not, it's estimated that more than 300 million sandwiches are consumed every day in the U.S. That's lots of mayo!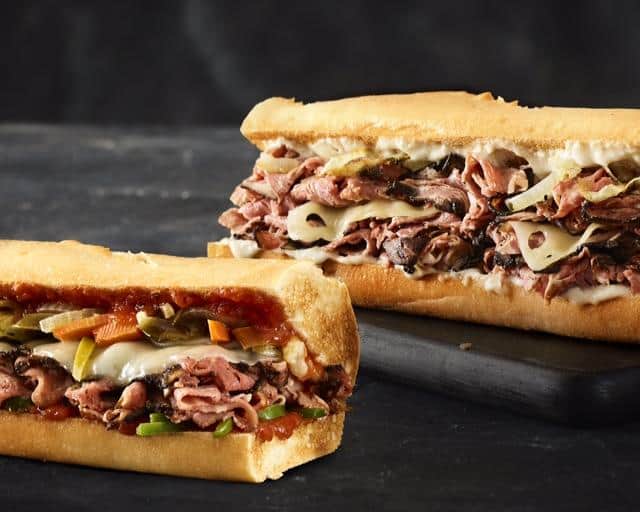 Please credit MileHighOnTheCheap.com, if you publish or publicly share our National Sandwich Day round-up.
However you order your favorite sandwich, you'll definitely want to take a bite out of these National Sandwich Day deals on Sunday, November 3.
The offers are available at participating locations, while supplies last.
Erbert and Gerbert's – Get buy-one-get-one FREE sandwich by downloading its app. The offer will appear in your account on the morning of November 3.
Firehouse Subs – Enjoy FREE medium sub with the purchase of additional medium (or large) sub, chips and drink — coupon required.
Jimmy John's – Chomp on its new menu addition Little John sandwich for just $3. Plus, Freaky Fast Rewards members who order an Original or Favorite sandwich will earn a FREE surprise sandwich – an 8" Favorite, 8" Original, Frenchie or Little John.
McAlister's Deli – Get FREE delivery via DoorDash. There are only two locations in Colorado — Grand Junction and Pueblo.
Popeyes – While there's no deal here, it's worth noting that the chain's mega-popular Chicken Sandwich makes its grand return on November 3. Expect long lines!
Potbelly Sandwich Shop – From November 3 to 9, Potbelly Perks members can chew on a daily deal, starting with 20% off all sandwiches on National Sandwich Day. To join its loyalty program, click here.
Quiznos – Get any 8″ sub for just $6 — add $1 for a steak or prime rib sub.
Schlotzsky's – Download its app and get a small sandwich for $1.99. The offer is valid only on The Original, Ham & Cheese Original-Style, Smoked Turkey Breast or Fresh Veggie.
Snarf's Sandwiches – Show the cashier you like or follow the local sub shop on social media and get a buy-one-get-one FREE 5″ or 7″ non-specialty sandwich.
Hungry for more food deals?
Tuesday, November 28, 2023
Wednesday, November 29, 2023
Thursday, November 30, 2023
Friday, December 1, 2023
Saturday, December 2, 2023
Sunday, December 3, 2023
Monday, December 4, 2023