Cookie lovers will like "the way the cookie crumbles" on National Cookie Day. On Saturday, December 4, "cookie monsters" can celebrate the sweet day by enjoying their favorite treat. It doesn't get much better than dunking cookies in an ice-cold glass of milk, every day of the year! With so many sweet options, there's the perfect cookie out there for everyone — whether you enjoy yours simple or full of chunky goodness.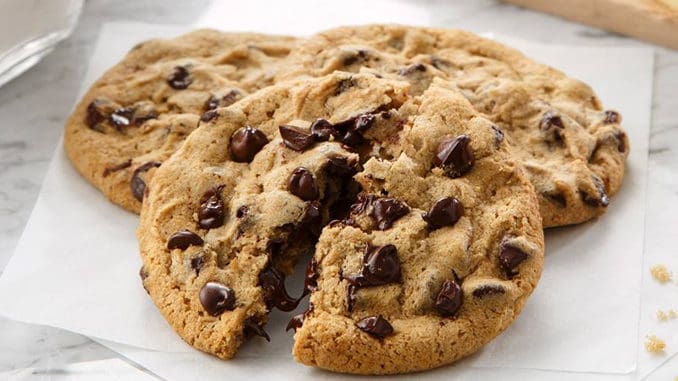 The sweet deals are only valid at participating locations, while supplies last. Limit one offer per person.
Crumbl Cookies – If you're looking to celebrate National Cookie Day in a big way, head to Crumbl Cookies to enjoy one its big, soft cookies. The shop is also known for its unique flavors, which change every week. No giveaways or specials have been confirmed for 2021, but you can check its social media for any announcements.
If you love Crumbl Cookies, join its loyalty program via its app for rewards — click here.
Insomnia Cookies – Don't sleep on these specials from Insomnia Cookies for National Cookie Day — from December 3 to 5.
The popular cookie shop is giving away a FREE Classic Cookie. The offer is open to all customers in-shop — just ask for the special. (The offer is also available for delivery orders placed on its site. However, a $6 delivery minimum applies.)
Plus, get a 12-pack of Classic Cookies for just $15 or 4-pack of Deluxe Cookies for $10, in-shop and online.
And, finally, members of the shop's CookieMagic program also enjoy a FREE 6-pack of cookies — no purchase necessary. New members get their first month FREE — find out how here.
There are four shops in Colorado — Boulder, Denver (2) and Ft. Collins.
King Soopers – Enjoy sweet savings on cookies at King Soopers. As part of the grocery store's Weekly Digital Deals, get 16 cookies for just $2.47 — making each cookie around 15¢! There is a limit of five packages, so you could get enough cookies for a National Cookie Day party at work or school. The sale runs from December 1 to 7.
Denver has many wonderful neighborhood bakeries, so stop by on December 4 to check for any in-shop giveaways or specials. If anything, you can celebrate National Cookie Day by supporting a local business.
Hungry for more food deals?
Saturday, August 13, 2022
Sunday, August 14, 2022
Monday, August 15, 2022
Tuesday, August 16, 2022
Wednesday, August 17, 2022
Thursday, August 18, 2022
Friday, August 19, 2022