Olde Town Arvada transforms into a weekend shopping destination with the Jackalope Indie Artisan Fair on Saturday & Sunday, October 14 & 15, 2023,. with a Preview Night on Friday, October 13. The three day fair promises shoppers the chance to peruse the works of more than 100 local, hand-selected artisans, crafters and DIY enthusiasts.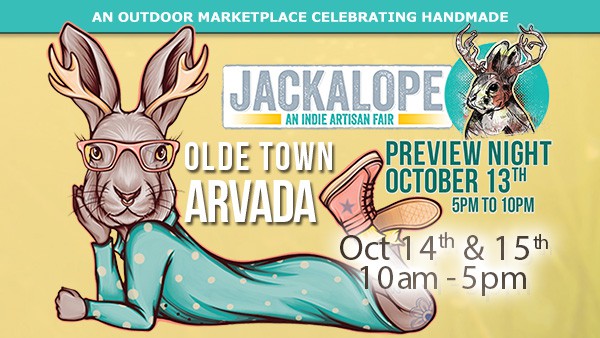 You'll find trendsetting indie goods, original fashion, jewelry, ceramics, paper goods, innovative home decor, as well as housewares, art, photography, food and more. The event is FREE.
Preview Night will showcase 40 artists and include a Kids Halloween Parade, live music and food trucks. From 5 p.m. to 6 p.m. you can even get a FREE tote bags (while supplies last).
The Fair will be held in the heart of Olde Town Arvada (Use 5726 Olde Wadsworth Blvd. for GPS).
Hours are Friday from 5 p.m. to 10 p.m. and Saturday & Sunday from 10 a.m. to 5 p.m.
There are both parking lots and street parking available.
If you don't want to drive, take public transport with the G-line commuter rail or RTD.