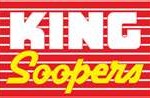 Trick-or-savings! Halloween may be more than a month away, but it's never too early to start building your candy stock for trick-or-treaters — especially when the savings are this sweet. And, let's be honest, some of that candy doesn't quite make it to October 31, right? It's nearly impossible not to nibble on a candy bar or two before Halloween, especially when they're so small. That's why it's a good idea to pick up an extra bag or two for the family to enjoy all month long in October.
On Friday, September 24 and Saturday, September 25, King Soopers is offering a major Flash Sale on popular Halloween treats.
Get Halloween jumbo bag candy (15- to 23.66-oz.) for 40% off. The discount is off the regular price and available while supplies last. The sale includes Hershey's, Mars and Butterfinger Jumbo Candy Bags.
No digital coupon required. However, the sale price requires your shopper's loyalty card at checkout.
Bargain hunters know it's one of the the best prices you'll find on Halloween candy until the after-Halloween clearance prices start on September 1.
Don't be one of those people who waits until the very last minute to pick up Halloween candy! Retailers know that when you're in a bind, you're more likely to pay whatever price. That's why it pays to shop now, when the savings are the best.
Looking to bag more savings on groceries?
Saturday, August 13, 2022
Sunday, August 14, 2022
Monday, August 15, 2022
Tuesday, August 16, 2022
Wednesday, August 17, 2022
Thursday, August 18, 2022
Friday, August 19, 2022