LoDo's Dairy Block micro-district will celebrate the Colorado Rockies Opening Weekend with Game Day on the Block, a variety of baseball-themed events and activities from Thursday through Sunday, April 6 to 9, 2023. The Colorado Rockies will kick off the season with a home game against the Washington Nationals at Coors Field on Thursday, April 6, 2023, at 2:10 p.m.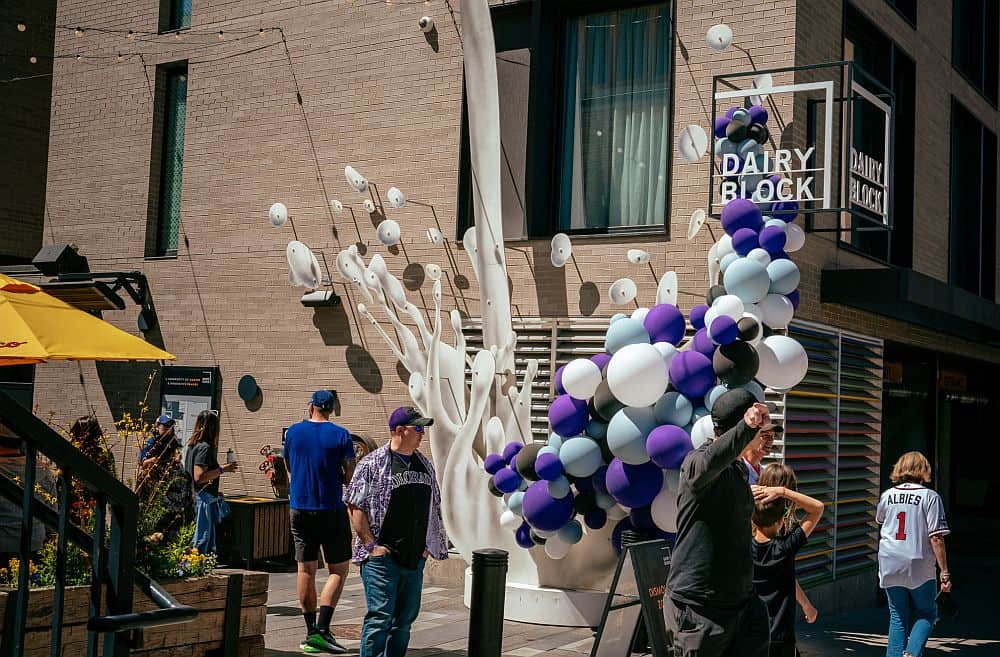 Source: Dairy Block
Dairy Block's 2023 Game Day on the Block includes:
Concerts by local musicians in the Alley:
David Lawrence – Thursday, April 6 from 12:30 p.m. to 2:30 p.m.
Delta Sonics Duo – Friday, April 7 from 5 p.m. to 7 p.m.
Andy & Lara Babb – Saturday, April 8 from 4 p.m. to 6 p.m.
Food & drink specials from Dairy Block partners:
Westbound & Down is transforming its Alley patio into a "Backyard BBQ" for the long weekend, featuring a baseball-themed photo opp, festive decorations and lawn furniture.
Be among the first to enjoy Westbound & Down's exclusive new can design for The Coloradoan Mexican Style Lager featuring Colorado Rockies colors & vibes — available ONLY at Dairy Block.
Grab a hot dog from the special Rugby Scott Wagyu Mangalitsa dog station featuring sauces and toppings created by Chef Michael Diaz de Leon of BRUTØ.
Blanchard Family Wines will be serving purple wine, baseball macarons and cake pops, with happy hour pricing offered all weekend.
Kachina Cantina will be serving to-go burritos on Opening Day and will also be featuring a Margarita on the Rockies, made with butterfly pea-infused tequila, lime and agave.
Denver Milk Market will have its mobile bar in the Alley offering drink specials like Jello shots and large grill out on the corner of 18th & Wazee Streets serving hot dogs, brats and more.
Colorado Rockies art installations in the Alley, including chalk art by Kyle Bannister and the Rockies Living Wall by Handsome Little Devils.
Pop-up bars in the Alley offered by Poka Lola Social Club.
Art of Left Field – baseball jewelry pop-up in the Alley:
Thursday, April 6 from 10 a.m. to 2 p.m.
Friday, April 7 from 4:30 p.m. to 7:30 p.m.
Saturday, April 8 from 4 p.m. to 7 p.m.
Sunday, April 9 from 11 a.m. to 2 p.m.