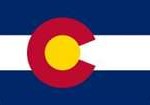 The stately Governor's Residence at the Boettcher Mansion is open for FREE tours from 10 a.m. to 2 p.m. Thursday to Sunday, December 5 to 8 and December 12 to 15. The tour of the entire main floor includes a peek at the Great Hall and the State Dining Room among others.
The red brick, Colonial Revival style mansion was built in 1908 and purchased in 1923 by Claude Boettcher. The Boettcher family later donated the house to the city. It has been decorated inside and out for the holidays by a number of Governor Polis' staff, cabinet and volunteers with the support of design expert David Rote from the American Society of Interior Designers.
The 2019 theme is Naturally Colorado: A Holiday Celebration of Botanical Inspiration.
1. Governor's Room: An Interpretation of spring flowers will be featured in this traditionally masculine space.
2. Library: Will feature an autumnal celebration of warm spices and citrus.
3. The Drawing Room: The Mansion's most elegant room will showcase Hanukah traditions in white, silvers and blues, antique dreidels and menorahs.
4. The Dining Room: Will feature a grand colonial revival of the Cheesman-Boettcher Mansion with topiaries, garlands and kissing balls of fruit, nuts, pine cones, and greens.
5. The Palm Room/Well Room: Taking inspiration from Saint Nick's suit and beloved holiday treats, the marble and glass of the large conservatory will be adorned with cranberries, ornaments, sprays of berries, magnolia blossoms, and pomegranates among the evergreens.
6. The Hallway: Aspen-glow: The greens of the hallway will be frosted with falling snow, and sparkle with gold.
Tours begin at the Eighth Avenue main gate. There may be a line, so all guests are admitted on a first come, first served basis. No reservations are required and are at your own pace so expect to spend from 20- to 45-minutes. 400 E. 8th Ave. (at Logan St.) Denver. For more information, call 303-866-3682.
More Holiday Fun