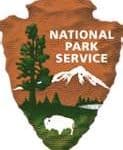 The National Park Service is waiving entrance fees to all of its parks, monuments and other sites on National Public Lands Day, Saturday, September 23, 2023. The aspens of Rocky Mountain National Park, virtually in the metro Denver/Boulder area's backyard, are showing the yellows and oranges, and the bull elk are bugling early in the morning and again in the afternoon and evening in one of the Rockies' most fantastic wildlife experiences.
IMPORTANT: You still MUST reserve a timed entry in advance here for RMNP. When you select September 24, it will note this is an "Entrance Fee Free Day".
Reservations open at 10 a.m. MDT on August 1, 2023. If all spots are gone, more will be released on September 22 at 5 p.m.
Before heading to any national park, monument or historic site, check its website first to learn its current entrance procedures, as many are operating with a similar reservation system.
Also, even though you get free entry, other fees such as reservation, camping, tours, concession and fees collected by third parties are not included.
Other federal land management agencies also waive access fees on National Public Lands Day, which also provides volunteer opportunities on public lands at national and state parks, public and community gardens, beaches, wildlife preserves or forests.