In recognition of National Hispanic Heritage Month, FirstBank is partnering with local, Hispanic-owned businesses to provide FREE food and treats to customers every Friday in September. When you order from any of the participating restaurants, just mention "FirstBank's Fiesta Friday promotion" to receive the offer.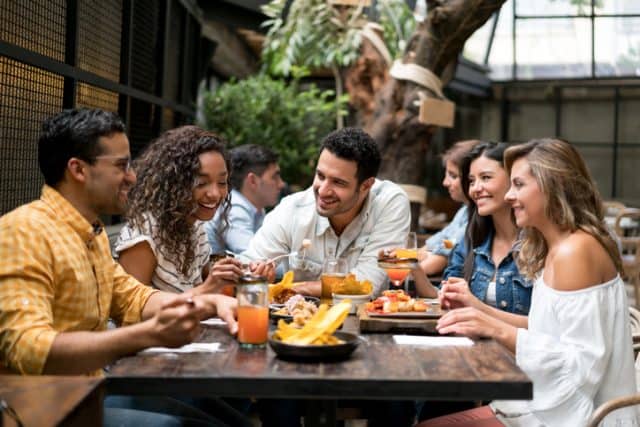 Everyone is welcome to participate – no matter your cultural background or native language. The giveaway is first come, first served, while supplies last. No purchase necessary. One free item per order, per party.
The following offers are available September 4, 11, 18, and 25:
Summit County, Colorado
Fritangas Mexican Restaurant — 102 Annie Rd. in Silverthorne
FirstBank Giveaway: One FREE Nacho Appetizer
Since 2005, Fritangas has been a tradition in Colorado offering new and authentic Mexican Cuisine in the town of Silverthorne. The restaurant staff and owners bring their culture and knowledge of Mexican cuisine all the way from Mexico City. Their mission is to provide customers authentic Mexican food with a full bar and a wonderful, tasty experience.
Eagle County, Colorado
Fiesta's Café and Cantina — 57 Edwards Access Rd. in Edwards
FirstBank Giveaway: One FREE Tres Leches Cake
Fiesta's Café and Cantina is a family owned restaurant that has been a Vail Valley staple for more than 30 years. They offer New Mexican cuisine, using fresh and authentic family recipes made-from-scratch.
Denver, Colorado
Hamburguesas Don Jesus — 800 Decatur St. in Denver (Note: The Arvada location is not participating.)
FirstBank Giveaway: One FREE Papas Gafas (fries with ketchup, cream and jalapeño)
Jesus Chavez started Hamburguesas Don Jesus out of a food truck selling his burgers on the weekends, while also working a full time construction job during the week. The food truck operated from 2006 to 2010. He officially opened the Hamburguesas Don Jesus restaurant location in 2014. Hamburguesas Don Jesus was nominated for the best burger in Denver and featured in Westword.
Fort Collins, Colorado
The Taco Stop — 6324 S. College Ave. in Fort Collins
FirstBank Giveaway: One FREE Queso Fries
Cesar and Berenice were just 19-years-old when they started The Taco Stop, an authentic Mexican food truck serving Northern Colorado. Over the years, their business has expanded from a tiny food cart to a food truck. Recently, they opened a new restaurant location offering new options, as well as classic favorites.
Hungry for more food deals?
Saturday, December 9, 2023
Sunday, December 10, 2023
Monday, December 11, 2023
Tuesday, December 12, 2023
Wednesday, December 13, 2023
Thursday, December 14, 2023
Friday, December 15, 2023