The Orchard Town Center's Summer Concert Series is back. Family night. Date night. How ever you want to enjoy it, drive over to The Orchard Town Center in Westminster to enjoy some of Colorado's best local bands. Enjoy a live concert on August 1, 8 & 15 from the comfort of your car with your favorite Orchard restaurant for dinner. Fifty percent of all proceeds will be donated to the Colorado Artists Relief Fund.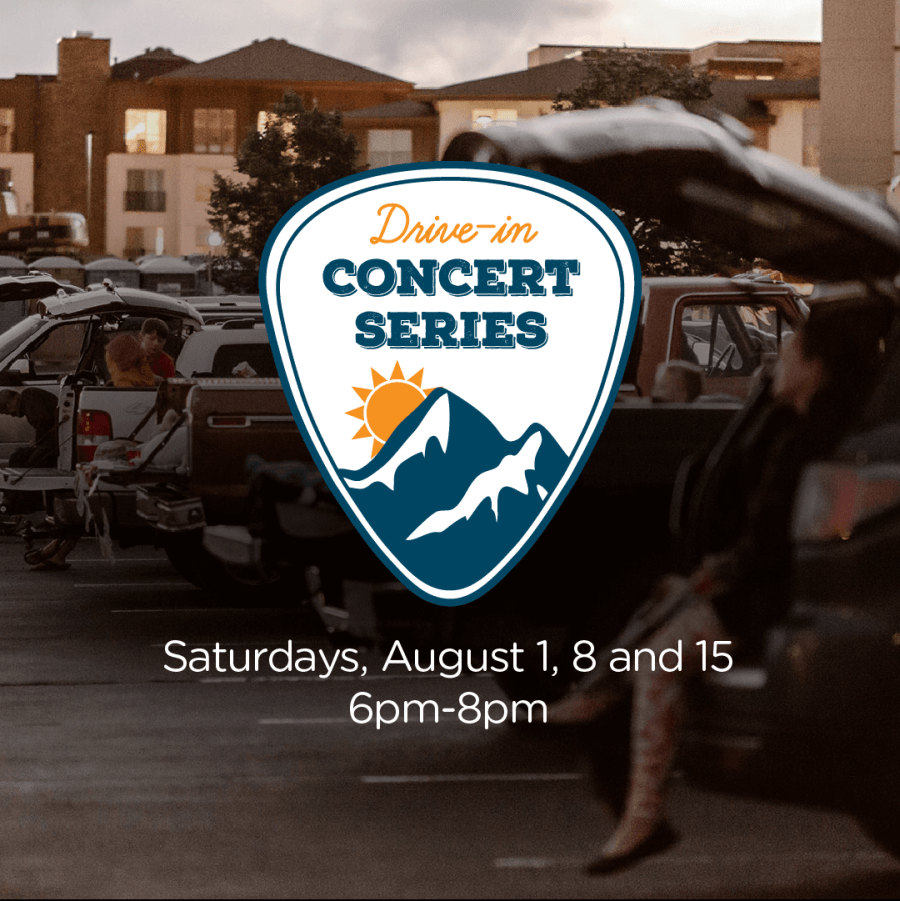 The parking lot will open at 5 p.m. and concerts will begin at 6 p.m. Tickets are $10 per vehicle (this is a change from $30).You'll find links to buy tickets to the concerts here.
Here's the lineup:
Saturday, August 1 — HomeSlice
Saturday, August 8 — Paizley Park
Saturday, August 15 — Buckstein
Please carefully read over the following drive-in policies to ensure a safe and enjoyable live concert experience for all.
Live Concert Policies
General
1. Everyone must remain in their vehicle – before, during and after the concert. The only exception is to use the restroom
To abide by physical distancing laws, under no circumstances will patrons be allowed to listen to the concert outside their vehicle. Outside the vehicle includes chairs set up next to your vehicle, blankets/sleeping bags on the ground etc. Patrons may sit inside their truck beds or hatchbacks as we consider this to be inside your vehicle. You must wear a mask and abide by all state and local laws.
2. Alcohol and drugs are not allowed. Everyone must abide by Colorado vehicle laws.
3. Do not toss or leave any garbage, food, or beverage containers outside your car. Please take home what you bring to the drive-in event.
4. When the concert ends, everyone must leave the parking lot. Please be patient and courteous to others when leaving.
5. This is a rain or shine event! Unless there is a thunderstorm/high winds and it is unsafe to have the concert, we will continue the performance even if it rains. Refunds will ONLY be issued if the event is canceled due to severe weather conditions.
6. Concert schedule is subject to change without notice.
Parking
1. Do not arrive before 5 p.m. Check-in will not open until 5 p.m.
2. Follow staff instructions on how to park your vehicle. You will be directed to a designated parking spot. Speed limit in and around the event is 5 mph.
3. There are no reserved parking spots. You cannot choose your spot. The parking attendants will direct you to the next available spot based on your vehicle size.
4. Vehicle lights must remain off during the show.
5. Larger vehicles such as trucks and SUVs will be parked in the rear of the drive-in no matter what time you arrive to allow better visibility for smaller vehicles.
Restrooms
1. There will be two ADA porta-potty facilities available in the parking lot with hand sanitizer. If you must leave your vehicle to use the restroom, we ask that you wear a mask and abide by physical distancing laws.
2. Do not congregate around the restrooms.
Ticketing
1. All tickets must be purchased online, in advance, to limit the interaction between customers and staff.
2. Upon arrival, leave your windows up and show your ticket (digital or printed) to our staff against the glass of your window.
Violations
ANY violation of policies will result in being asked to leave the Drive-In movie area.
Directions
The drive-in entrance is located on the east side of JC Penney. Enter The Orchard on Delaware Street at 144th. Continue north on Delaware street and turn right after Nordstrom Rack. Continue past Lazy Dog to the backside of JC Penney until you see the yellow check in flags. There is only one entrance. Staff will guide you into the event area.