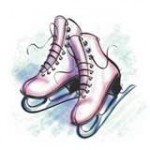 FREE ice skating returns to downtown Denver's Skyline Park for another winter as the Downtown Denver Rink welcomes locals anxious to lace up some blades from November 20, 2023 to February 11, 2024. Bring your own skates or rent a pair — $9 for kids (12 & under) and $11 for everyone else (13 & older.) All 4th graders get FREE skate rental and those with a MyDenver card can rent for $5.
Hours vary, so check the rink's website.
You can use a locker and key for free with a valid ID. Please note that lockers are limited and available on a first come first serve basis.
This year's rink is again sponsored by Southwest Airlines.
16th and Arapahoe Streets next to the landmark D&F Clocktower.
More Festive Fun
Monday, December 11, 2023
Tuesday, December 12, 2023
Wednesday, December 13, 2023
Thursday, December 14, 2023
Friday, December 15, 2023
Saturday, December 16, 2023
Sunday, December 17, 2023