Time to celebrate! The Denver Nuggets won their first NBA Championship and fans are invited to a huge party. THIS Thursday, June 15, 2023, downtown will be awash in blue and gold for a Champions Celebration Parade and Rally. Both events are FREE and open to the public. Here's what you need to know to join in the festivities.
There will be a parade lasting about two hours, followed by a rally. You can line the parade route or simply head over to Civic Center Park and watch the live parade on jumbo screens. Note: No seating will be allowed on the parade route or at the rally.
The Parade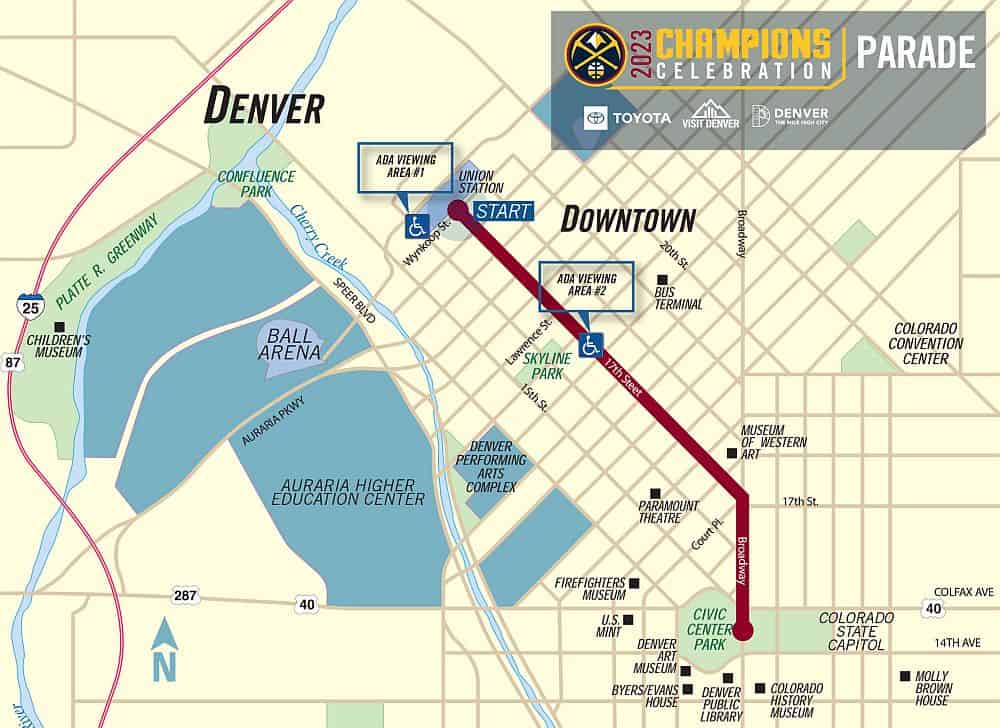 The parade will start at Union Station at 10 a.m. and proceed down 17th Street to Broadway and make its way to Civic Center Park.
Participating in the parade are Denver Nuggets players, coaches, management and owners, as well as Denver Mayor Michael B. Hancock, SuperMascot Rocky, Denver Nuggets Dancers, the Skyline Drumline, Mile High City Hype Squad, Average Joes, Sizzlin' Seniors and Ball Team Aluminum.
Bring water, sunscreen and, of course, all your Nuggets gear.
The Rally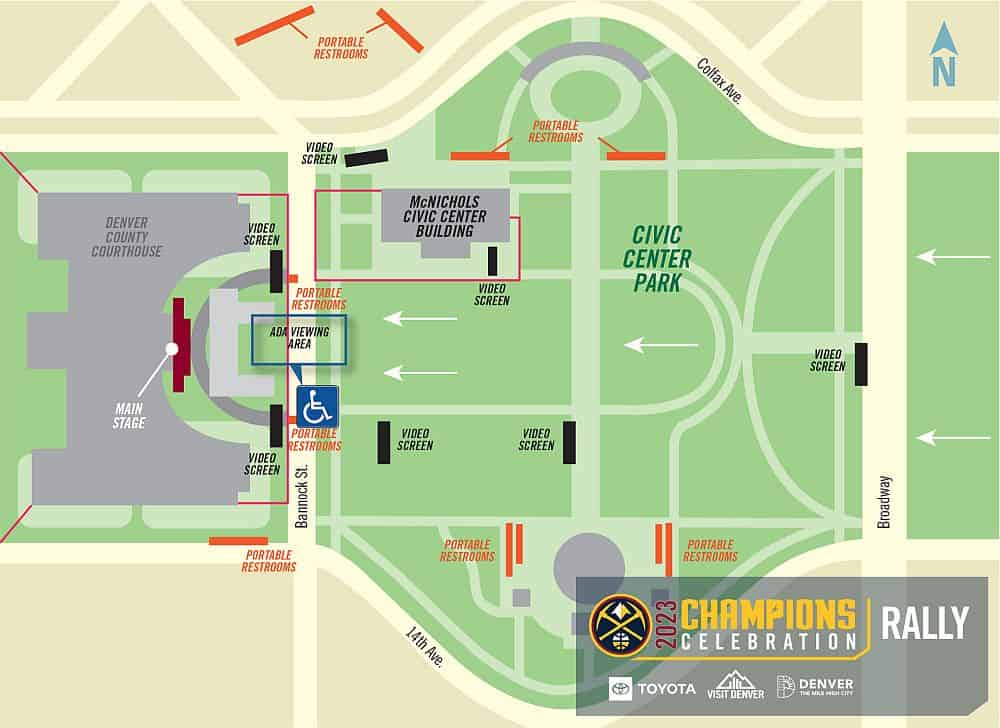 The Rally will take place on a stage on the top steps of the City and County Building at Civic Center Park (101 14th Ave.) Video screens will be positioned on Bannock St. and in the park.
At 9 a.m. pre-rally activities begin with live music from GRiZ, Big Gigantic, and Paws The Music and Nuggets season highlight reels. Starting at 10 a.m., you can watch live shots from the parade.
After the parade arrives, at about noon, the City and County of Denver presents a program honoring the 2023 NBA Champions.
The rally is expected to last about an hour, with all Nuggets festivities ending by 2 p.m.
Everyone who was in the parade will participate including the players, mascot, Nuggets Dancers, Drumline and more.
What Not To Bring
With hundreds of thousands of people expected to attend the parade and rally, be smart and leave any unnecessary stuff at home.
Here's the No-No list for both Parade & Rally:
Anything Illegal to Consume/Use in Public
Alcohol, marijuana and illegal drugs
Weapons (i.e., knives, pepper spray, stun-guns, any concealed weapons, firearms, etc.)
Anything That Takes Up a Lot of Space
Chairs and seating of any kind
Blankets, tarps, beach towels, etc.
Inflatable objects (beach balls, latex balloons, etc.)
Umbrellas
Hard case containers (coolers, briefcases, etc.)
Large backpacks, suitcases, beach bags, equipment bags, etc.
Grills or propane
Anything That Could Disrupt the Event
Cans and bottles
Air horns/whistles/vuvuzelas
Animals (except service animals)
Chemicals
Fireworks, smoke bombs, etc.
Drones
Audio/video recording devices (including large cameras & tripods)
Laser pointers
Police/Radio Scanners
Skateboards/Roller Blades
Road Closure and Public Transportation Info
It's going to be a mess downtown so take note of the following:
Road Closures
The following roads will be closed and parking unavailable during the specified timeframes.
Wednesday, June 14
Bannock Street from Colfax to 14th Avenue, 6 a.m. to midnight
Thursday, June 15
14th Ave between Delaware Street and Broadway, 6 a.m. to midnight
Bannock Street from 13th Avenue to Colfax Avenue, 6 a.m. to midnight
Cherokee Street from Colfax to 13th Avenue, 6 a.m.– 5 p.m.
17th Street from Wynkoop to Broadway, 8:45 a.m. – noon
Broadway from 17th Ave to 13th Ave, 8:45 a.m. – noon
RTD Service Changes
Bus and rail services will change to accommodate the parade and rally, and related street closures, so attendees and commuters should make note of the following changes:
Downtown bus routes will detour beginning at 9 a.m.:
0, 1, 6, 8, 9, 10, 15, 15L, 16, 19, 20, 28, 32, 38, 43, 44, 48, 52 and 83L.
Service on the L Light Rail line will be suspended beginning at 9 a.m.
The D and H Light Rail lines will terminate at the Theatre District Station.
Civic Center Station will close to bus traffic no later than 10 a.m.
Service on the Free MallRide will be suspended beginning at 8 a.m.
The RTD Sales Outlet located in Civic Center Station will remain open.
Can't Get Downtown? Watch Anywhere
Don't like crowds or can't get away from work? You can catch all the action live on Denver7, 9NEWS or the Altitude Sports Channel. You can also listen to Altitude at 92.5 FM.
More Information
Check out the Champions Celebration website for updated information on transportation, parking, bike racks, ADA access and more.