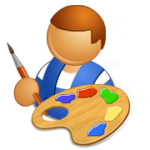 Mix and mingle with other art lovers at the Denver Arts Festival. More than 100 of Colorado's best artists will showcase their works Saturday & Sunday, May 27 & 28, 2023, at Conservatory Green Plaza in the Central Park neighborhood. You'll find sculpture, photography, fiber arts, mixed media, ceramics, jewelry, woodworking and painting.
Seventy percent of the artists are from Colorado. Admission is FREE.
The Wine & Beer Garden features The Family Jones House of Spirits and Odell Brewing Co.
The Denver Concert Band performs on Saturday from 11:30 p.m. to 1:30 p.m. Wendy Woo headlines on Saturday from 3 p.m. to 6 p.m. with Wirewood Station taking to the main stage on Sunday from noon p.m. to 4 p.m.
A Kids Art Zone features a Kids 'n Canvas mini painting party with Gallery On The Go. Kids can paint a mini 4″ x 4″ canvas magnet and take their picture in the photo booth.
Open Saturday 10 a.m. to 6 p.m. and Sunday 10 a.m. to 5 p.m. Parking is FREE.
8304 E. 49th Pl. (the north side of I-70 off Northfield Blvd. at Valentia), Denver.