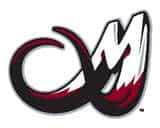 Pop quiz. Name Colorado's most affordable, family-friendly professional sports team. It's the Colorado Mammoth. Colorado's only professional indoor lacrosse team in the National Lacrosse League (NLL) has played at Pepsi Center since 2003. Most importantly, the Mammoth provides a fun, fast-paced game for the whole family at an affordable price.
What is lacrosse, you ask? According to the Henry Lacrosse Association, it is considered to be America's first sport and a combination of basketball, soccer and hockey. The game requires and rewards coordination and agility, not brawn. Quickness and speed are two highly prized qualities.
Long sprints up and down the field with abrupt starts and stops, precision passes and dodges are routine. The game is played with a stick, the crosse, which must be mastered by the player to throw, catch and scoop the ball. And, it is one of the fastest growing team sports in the United States.
NLL (National Lacrosse League) indoor lacrosse is one of the most intense and fast-paced sports to watch (here's a You Tube video to watch), and Mammoth players are some of the most personable athletes in Denver, so open practices are a great time for fans to get to know the players prior to the season start.
Tickets for the 2019-20 home games from November 29 to April 17 at Pepsi Center start at $10 (plus service fee and taxes, so really starting at $13.95).
After every game, Mammoth players are happy to meet with fans, sign autographs and take photos. For kids, especially aspiring lacrosse players, this is the best part of the night.
In the spirit of the holidays, on Friday, November 29, the team is hosting a teddy bear toss after the Mammoth's first goal of the second quarter. Fans are encouraged to throw soft teddy bears onto the turf which will then be donated to the local non-profit, A Precious Child. This year, fans can bring their own new teddy bears into the arena to throw for the toss!