You don't need a passport to soak up the culture and flavor of Asia at the annual Colorado Dragon Boat Festival. The FREE family-friendly festival returns to Sloan's Lake Park in northwest Denver on Saturday & Sunday, July 22 & 23, 2023. Festival hours are Saturday from 10 a.m. to 7 p.m. and Sunday from 10 a.m. to 5 p.m. This festival is one of the few of its kind in the U.S. with two full days of fast-paced dragon boat racing (boats start their match-ups at 8 a.m. each morning).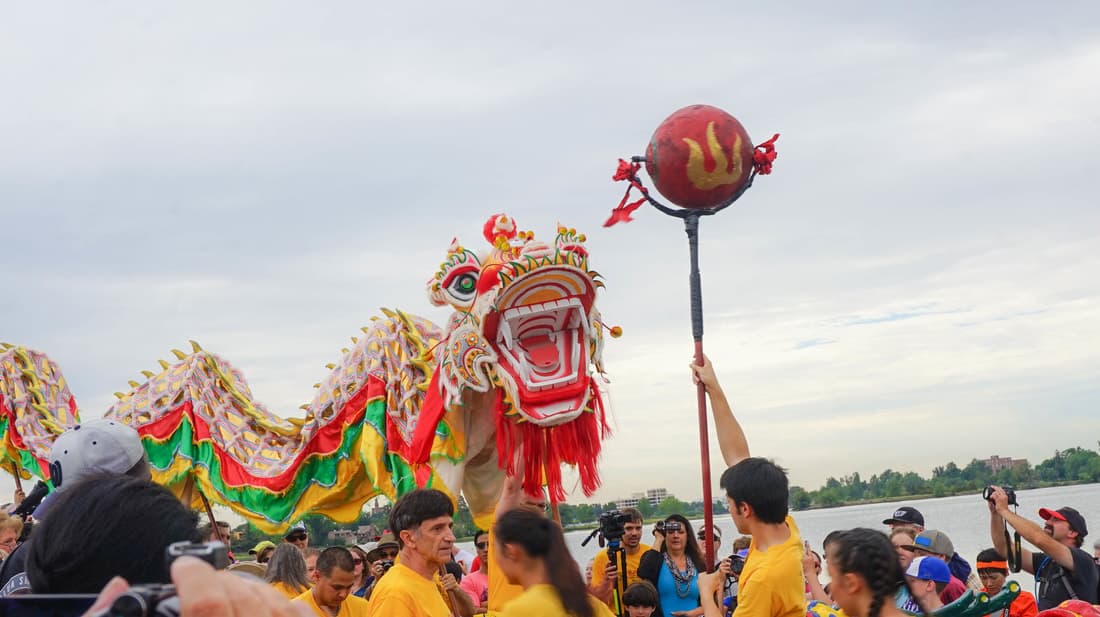 Colorful Flag-Catching Taiwanese-style boats are crewed by 18 paddlers, one drummer and one flag catcher. There will also be the Hong Kong-style division. On these slimmer boats there are 20 paddlers.
While the competitions are at the heart of the festival, there are plenty of other activities. Sample culinary delights such as Hmong sausages, Banana Turon, Eggrolls, Beef Satay, Vietnamese Banh Mi sandwiches and more at the Taste of Asia Food Court.
With merchants from every corner of Asia and the Pacific, shopping at the Marketplace is like shopping in Asia's open-air markets. Find a fascinating array of art, jewelry, fashion, decor, and more. Also check out the Asian Craft Tent, with its handcrafted goods.
Back by popular demand are live art demonstrations that showcase local AANHPI artists.
Entertainment takes center stage, literally, with dozens of performances on three separate stages. Performances include Japanese Taiko drumming by Denver Taiko, Halau Kalama and Indian-fusion dancers, Mudra Dance,
Getting To The Dragon Boat Festival
There is NO PARKING onsite.
You can park at the Auraria Campus for $5.75 and take a FREE shuttle to the event. Shuttles run every 20 to 30 minutes from 6:30 a.m. to 8 p.m.
Bike or walk to the festival. Bike and scooter parking is available at the East and West sides of the festival. Volunteers will be monitoring your bikes (or scooters or roller skates) for your stay. Please make sure to TIP your bike valets.
Use RTD/ Light Rail. The closest Light Rail Station and Light Rail Park and Ride is the Sheridan Station at 1198 Sheridan Blvd., Denver, CO 80204.
Take Lyft. Put "Colorado Dragon Boat Festival" into your Lyft app and their drivers will drop you off at one of the three Festival drop off areas.