The lights! The music! The pure Christmas joy! These are all things you may think while cruising through Christmas In Color, an outdoor extravaganza of animated holiday lights that you can see right from your car. The event runs until January 1, 2024, in three spots in the Denver metro area.
There's one at Water World Family Water Park (8800 N. Pecos St.), another at Arapahoe County Fairgrounds (25690 E. Quincy Ave., Aurora), and the third at Bandimere Speedway (3051 S Rooney Rd., Morrison).
It doesn't matter which spot you pick, any scenery is blotted out by the darkness and all you and your car of family and/or friends will see are the lights. Thousands, and thousands of colorful lights.
Bonus, most spots you can see from far away as you're driving toward them, like a sea of sparkling Christmas beckoning you.
Drive north down Pecos Street and the Water World location lights up the horizon. And from the highway it's easy to see the glory that has taken over Bandimere Speedway.
Christmas In Color really got started a few years ago during the pandemic. At a time when everyone needed to do social distancing, it was a way to get festive without exposing yourself to other people.
Turns out we still like doing things from the comfort of our cocoon, aka car.
The company, which has locations of Christmas In Color in other states as well, actually launched over a decade ago at the Utah home of founder Richard Holdman.
Holdman started putting lights around his house, animating them and setting the motion to holiday music.
His house was right near the local children's hospital, and as cars passed and took in the show they would often donate. Holdman in turn gave the money to the hospital.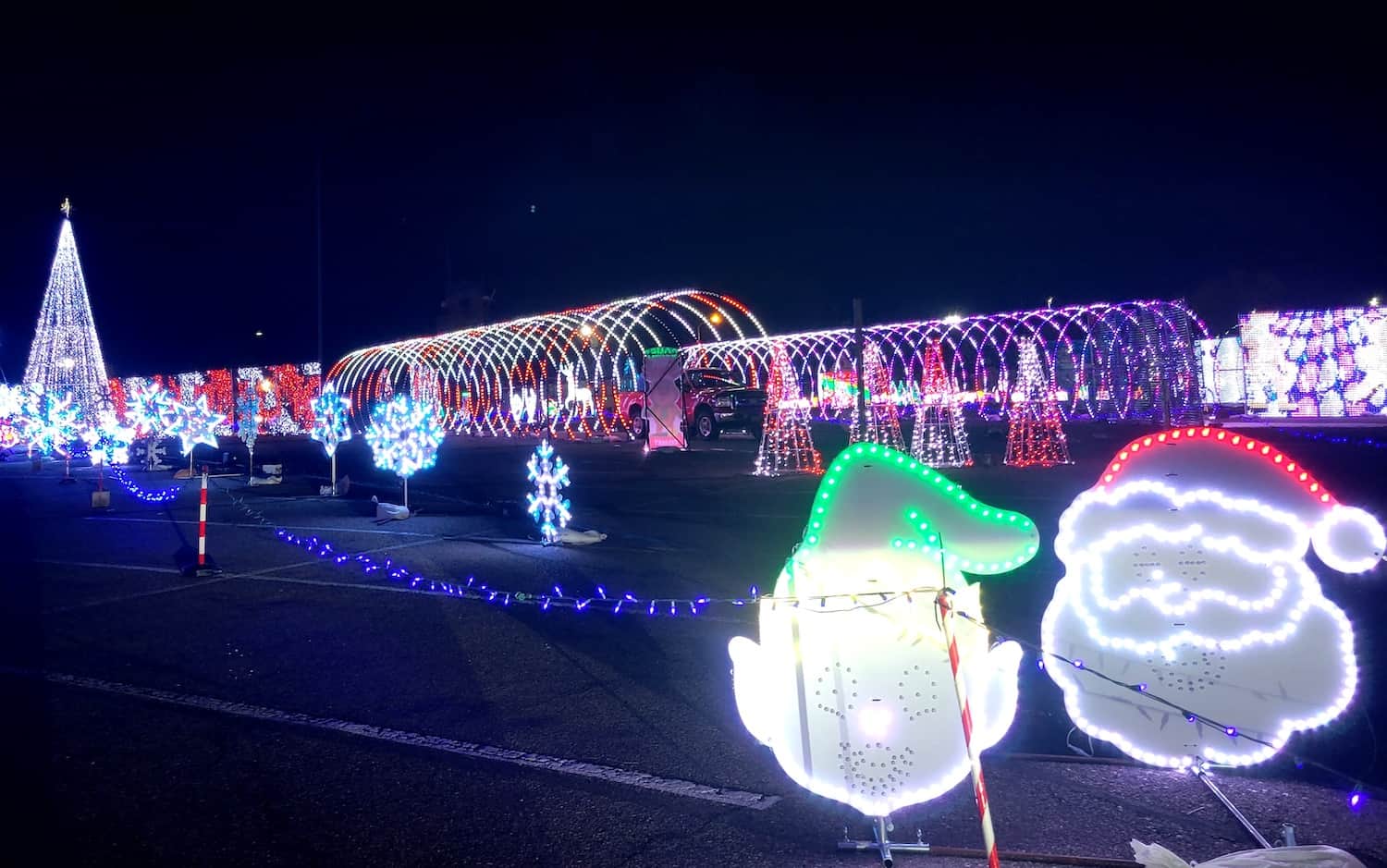 Now the event raises money for Make-A-Wish Foundation, a nonprofit organization that helps fulfill the wishes of children with critical illnesses.
That means when you pay the general admission tab, it's not just going to your entertainment, but to help sick kids too.
Each ticket can be purchased online for $35 per car + taxes & fees, as long as it's not a limo, bus or RV, those aren't allowed.
That means you can pack in that three-row car with all the kids and their friends and it's still just $35.
If you want to splurge, get the party pack ticket. It's between $55 and $65 depending on the day, and includes two light wands, four 3D glasses, two light-up necklaces and a festive air freshener.
Note, you may have to remind the person who scans tickets that you bought this option, especially if going early in the season before everyone is sharp on the process.
Another caveat to going early in the season, some of the lights might not be 100-percent functioning. There are plenty of other things to look at, over a million lights for example, but don't be surprised if some decorations remain dark.
Now, the details.
Before you pull into the show make sure to turn your radio to the proper station. For the Water World location it was FM 87.9.
The station is blasted all around the park and plays in tandem with many of the lights.
We admit, over the 30 minutes or so you're driving through the lights, the music repeats.
There's no shame in ditching the radio and putting on your own Christmas music after the first run. Just don't blast it so loud it disturbs other cars who may want to hear the station.
In case you didn't guess, yes, you should have your windows rolled down. And, why not open up that sunroof, too?
Plenty of visitors do this, and it's not odd to see a gaggle of kids with their heads popping out of the car.
Pick up trucks are another favorite vehicle since people can sit in the back and see the lights with out obstruction.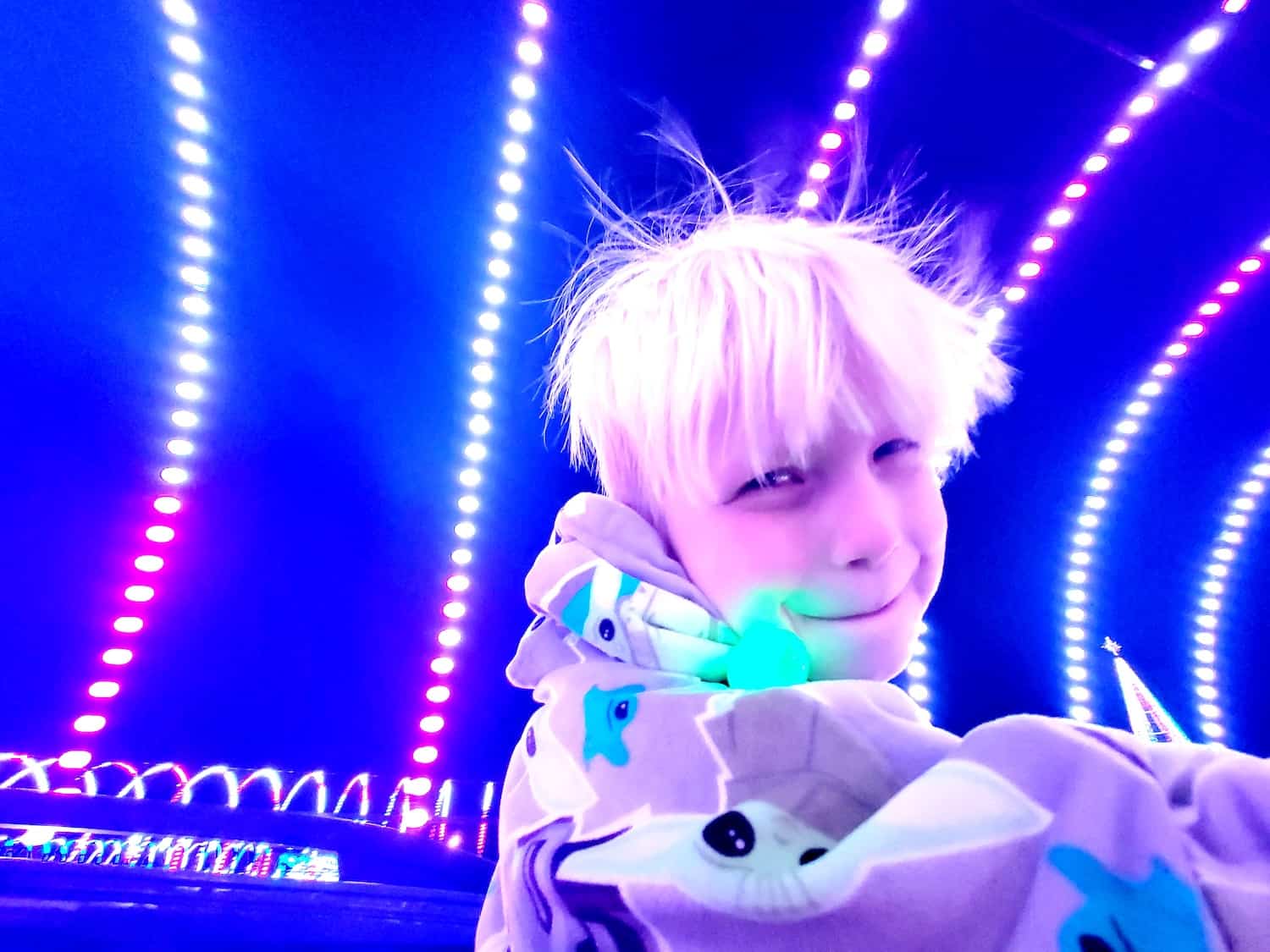 Overall the event takes around 30 to 40 minutes, depending on how long the line to get in is and how slow you drive.
Don't worry about going extra slow, or even stopping to snap a selfie with one of the lit-up reindeer or inside one of the magical Christmas tunnels.
Pack snacks for the drive and maybe a travel mug of hot cocoa too. There aren't concessions here, it's all bring-your-own.
Save On Christmas in Color Tickets!
Groupon now has discounted tickets available. For each location pay just $26.96 per car (includes all taxes and fees) or $36.95 for the Party Pack (includes all taxes and fees). That's a savings of 37%!
Buy Federal Heights (Water World) location tickets here.
Buy Aurora (Arapahoe County Fairgrounds) location tickets here.
Buy Morrison (Bandimere Speedway) location tickets here.
Another way to save money is to pack your vehicle with as many people as possible. The more in the car, the less the per-person price is.
And bring in hologram glasses if you have them. It makes the show even more exciting.
Go here to find the nearest Christmas In Color location, schedules and to buy tickets.
Then, follow up this lighted adventure with a tour of decorated neighborhoods. We have a list of some of the best spots to hit up, all FREE of course.
Save On Tickets To Christmas In Color: A Drive Through Animated Holiday Lights
When
Daily @ 5:30 pm-9:30 pm (November 17, 2023 - January 1, 2024)
What
Save On Tickets To Christmas In Color: A Drive Through Animated Holiday Lights
Leave a Reply