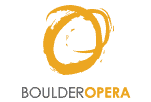 Mozart's comic opera, Le Nozze di Figaro (The Marriage of Figaro), is a farcical jaunt through a not-so-typical day in the Almaviva household. The servant couple, Figaro and Susanna, are to be married later in the evening; while the Count (who has amorous designs on the bride) attempts to revive the droit du seigneur allowing him intimate time with Susanna on the wedding night. The Boulder Opera presents a fully-staged production at the open-air The Spark theater on March 7, 13 & 14.
Each show is limited to 55 people. These performances will be semi outdoor, and while they will have heating lamps, it is recommended you dress warm. Face covering and social distancing are required at all times.
In this witty opera, Figaro and Susanna, together with the rejected Countess and the occasionally helpful, often irritating page boy, Cherubino, contrive an elaborate plot to outwit him.
Much mayhem ensues, someone jumps out of a window, clothes are exchanged, a second wedding occurs, and the Count receives a lesson in fidelity he'll never forget.
Performances are:
Sunday, March 7 at 1 p.m. — The Spark theater and live stream option
Saturday, March 13 at 3 p.m. — The Spark theater
Sunday, March 14 at 1 p.m. — The Spark theater
Tickets are $35 for general admission and $30 for students and seniors. MHOTC readers can get 50% off tickets when they buy 2 or more by March 10. You pay only $15 to $17.50 by using the promo code MILEHIGH at checkout.
You must buy a minimum of 2 tickets to get the deal or the code will not work.
The local cast includes Armando Contreras as the Count, Kyrie Laybourn as the Countess, Sabine Balsamo as Susanna, Zeky Nadji as Figaro and Claire McCahan as Cherubino.
The Spark is located at 4847 Pearl St., Ste. B4 in Boulder.