The first day of summer, and longest day of the year, is just around the corner. While everyone gears up for weekend picnics in the park, road trips and summer adventures, Boston Market just debuted four new sandwich offerings — perfect for all of those outings or when you're on-the-go having fun in the sun.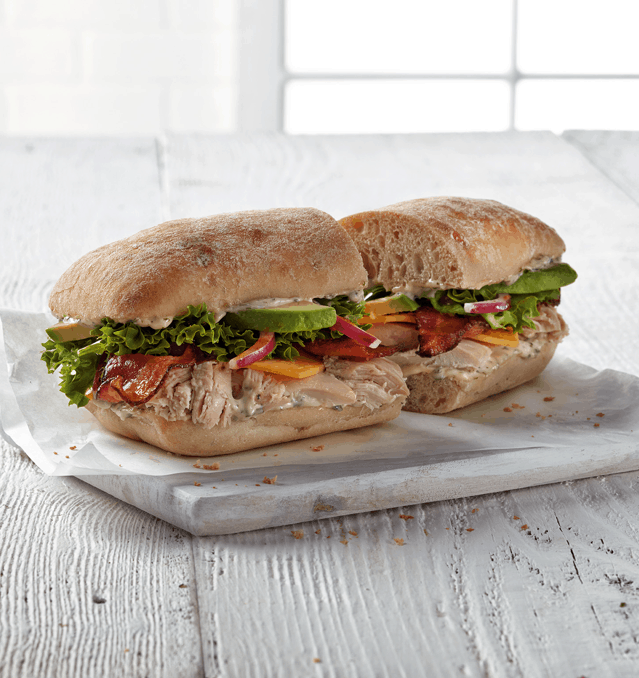 Boston Market is so confident you'll love its new sandwiches that they're hosting a "Sandwich Throwdown." On Friday, June 21, from 11 a.m. to 2 p.m., they're inviting everyone to ditch their current lunch and enjoy a FREE sandwich (reg. $8.49 to $8.99) on the house at participating locations.
Simply take your current favorite sandwich (whether home- or competitor-made) and trade it in for one of the chain's new fresh, never frozen rotisserie chicken sandwiches.
The four new Rotisserie Carver Sandwiches include:
Southwest Chicken BLT – Cholula bacon, avocado, Tillamook pepper jack cheese, lettuce, tomato, red onion and a smoky chipotle aioli, all layered atop ciabatta.
Chicken Avocado Club – Bacon, avocado, Tillamook cheddar cheese, lettuce, red onion and an herbed mayo, all layered atop ciabatta bread.
Chicken or Turkey – Choose rotisserie chicken or hand-carved turkey to pair with smoked cheddar, lettuce, tomato, red onion and herbed mayo on this lighter sandwich option, all layered atop ciabatta bread.
Chicken Salad – An elevated chicken salad featuring fresh-from-the-rotisserie chicken with sliced tomato, lettuce and mayo on a multi-grain hoagie roll.
Hungry for more food deals?
Sunday, November 26, 2023
Monday, November 27, 2023
Tuesday, November 28, 2023
Wednesday, November 29, 2023
Thursday, November 30, 2023
Friday, December 1, 2023
Saturday, December 2, 2023