Downtown Boulder is the site of the city's popular summer music series. Bands on the Bricks. It takes place every Wednesday evening from 5:30 p.m. to 9 p.m. June 14 through August 2, 2023, with rock, reggae and everything in between. Opening acts take the stage at 6 p.m. Headliners go on at 7 p.m.
Here's the 2023 Bands on the Bricks line-up:
June 14 — The Long Run
June 21 — The Goonies
June 28 — Hazel Miller & The Collective
July 5 — Chimbangle
July 12 — Chain Station
July 19 — The Sweet Lillies
July 26 — JJ Brown's Raw Soul Band
August 2 — Mighty Mystic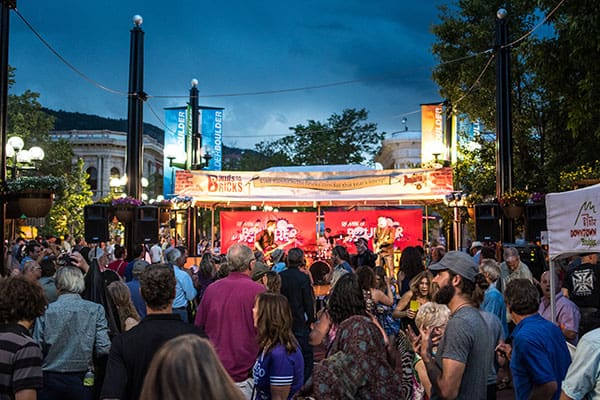 The event features a large outdoor beer/wine/margarita garden opening at 5:30 p.m.
Festivities take place on the plaza in front of the courthouse in the heart of Boulder's Pearl Street Mall, between 13th and 14th Sts., Boulder.
NEW FOR 2023: Ride your bike to Bands on the Bricks and drop it off at a Secure Bike Valet located on Pearl just west of 13th Street.
For more information, call Downtown Boulder at 303-449-3774. For more musical events, check out our Mile High Summer Concert Guide.
More Summer Music