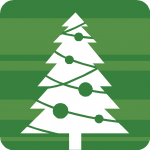 On Sunday, November 27, 2022, the Tesoro Cultural Center again celebrates its Southwestern tradition of lighting the farolitos – paper bags filled with sand – and burning pine cones in the courtyard of The Fort Restaurant. The FREE festivities from 4 p.m. to 5:30 p.m. usher in the holiday season as a unique alternative to the typical tree-lighting ceremony.
In a lovely tradition, each guest is given a piece of paper and invited to write a message to someone who lives far away or has passed. The message is tucked inside the pinecone and tossed into a bonfire.
Nineteenth century ancestors believed that as the fire burned, the messages were transported to the heavens, so toss a pinecone into the fire to remember someone you care about and glide into the season filled with goodwill.
This classic holiday event features 1830s and 1840s Christmas carol performed by students from the Colorado School of Mines and other strolling musicians.
FREE apple cider, Mexican hot chocolate and biscochito cookies are available during the festivities. This event is outside, so dress warmly. 19192 CO-8, Morrison.
More Holiday Fun