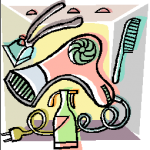 Emily Griffith Technical College has been training Colorado's cosmetologists for more than 75 years. Of course, students need experience, so that's where Emily's Salon & Barbershop comes in. The menu of services is very comprehensive and ranges in price from just $6 for a beard trim to $50 for curl reformation.
For example, a haircut and style is only $15 and includes a shampoo and blow dry. All services are performed by students under the direct supervision of a licensed instructor.
In addition, the salon offers full ski and nail services such as $8 for a manicure or express facial.
The shop is open Monday through Thursday from 8 a.m. to 11 a.m. and 12:30 p.m. to 4 p.m. The salon also has evening hours Monday through Thursday from 5 p.m. to 9 p.m. Appointments can be made online and walk-ins are welcome.
You must pay in advance of services at the salon. Cash, Visa and MasterCard accepted. It's important to note that children are not allowed in the salon (unless receiving services.) 1820 Lincoln St., Denver, 720-423-4798.