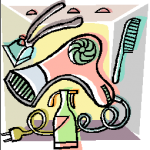 Emily Griffith Technical College has been training Colorado's cosmetologists for more than 75 years. Of course, students need experience, so that's where Emily's Salon & Barbershop comes in. The menu of services is very comprehensive and ranges in price from just $7 for a beard trim to $50 for curl reformation.
For example, a haircut and blow dry (including shampoo) style is only $10, and you can add styling for an extra $5. A men's haircut is $10. A full-color is only $35. There are some extra charges if your hair is super long.
All services are performed by students under the direct supervision of a licensed instructor.
In addition, the salon offers spa services such as $15 for a 90-minute facial or a lower leg wax for $18.
The shop is open for appointments from 9 a.m. to 3 p.m. and again from 5 p.m. to 7:30 p.m. Monday through Thursday.
Not all services are available at all times, so be sure to ask when making your appointment.
Appointments are booked same-day via phone (720-423-4798) and on a walk-in basis only.
Cash, Visa and MasterCard accepted. No bills over $20.
It's important to note that children are not allowed in the salon (unless receiving services.)
1820 Lincoln St., Denver, 720-423-4798.