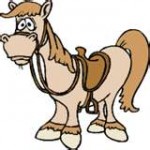 Whether by car, truck or horse & buggy, horse lovers are welcome to stop by the Dumb Friends League Harmony Equine Center (near Franktown) on Friday & Saturday, June 10 & 11 for the Harmony Horse Expo. This FREE event gives visitors the opportunity to take guided tours of the beautiful 168-acre property, attend horsemanship workshops and training demonstrations and meet adoptable horses.
The Expo is open to horse lovers of all experience and skill levels. Attendees will get a firsthand look at how the Center trains formerly abused or neglected horses so they are ready for adoption.
Harmony's staff of professional horse trainers will present training demos and clinics covering a wide range of topics, including training the Harmony way, selecting the right horse, building confidence in horse and rider, horse ownership 101 and more.
Expo hours are Friday from noon to 5 p.m. and Saturday from 10 a.m. to 4 p.m.
Harmony Equine Center is a private rehabilitation and adoption facility for horses, ponies, donkeys and mules that have been removed from owners' care by law enforcement.
The Center is at 5540 E. Highway 86, just west of Franktown. For more information, call 303-751-5772.