Sticking close to home? Tired of take-out but don't want to head to the grocery store or worry that they won't have all the ingredients you need? This may be the perfect time to try out one of the meal-prep kit delivery services? Everything you need for yummy meals is delivered to your door — including the exact amount of each ingredient, and step-by-step instructions. There's no guesswork and no waste. No leaving the house. No planning ahead.
Meal kit services know this is the perfect time to attract new customers, which is why they're rolling out the deals. Check out the introductory offers from the meal services listed below — which includes meal kits, smoothie kits, and fully prepared meals.
Keep in mind that since these are introductory offers, in some cases they will automatically renew and you'll be charged the full price, so be sure to keep an eye on your account and cancel in time to avoid the next payment and shipment.
Also, when you order from Groupon, always look on the top of the screen to see if there's a special promo code. We've been seeing deals for an extra 20% or 25% off meal prep services, periodically.
Last thing: before you order a meal prep kit from Groupon, go to the meal business' actual website to verify that it delivers to your zip code.
Home Chef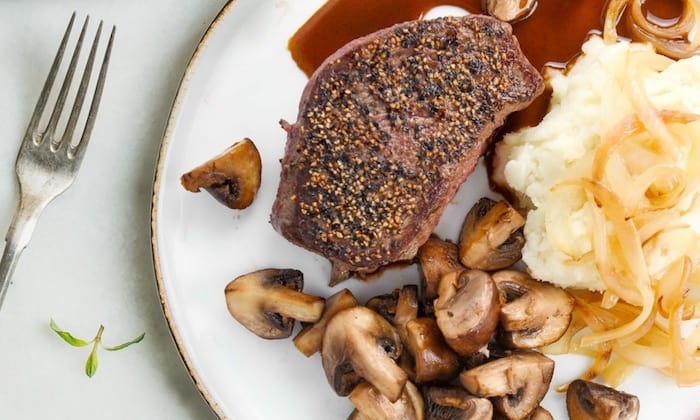 Weekly boxes delivered to your door include the ingredients and recipes needed to create meals in 30 minutes.
The offer is valid for new customers only.
Choose from these Groupon options:
One week of 3 meals for 2 people — $24 (that's 60% regular price of $60)
Two weeks of 3 meals for 2 people — $48 (60% off regular price of $120)
One week of 3 meals for 4 people — $48 (60% off regular price of $120)
Get the Home Chef Groupon Deal
Blue Apron – Currently Sold Out

Blue Apron delivers pre-portioned ingredients and chef-crafted recipes to prepare meals at home.
There are vegetarian options available.
NOTE: You'll be automatically opted in to receive future shipments — so be sure to cancel if you don't wish to continue.
The Groupon deal has these options:
Family Plan – 3 meal kits for 4 people — $60 (that's 37% off the regular price of $96)
Family Plan – 4 meal kits for 4 people — $74 (that's 38% off the regular price of $120)
Get the Blue Apron Groupon Deal
Hello Healthy Box
This Groupon deal is for a 14-day diet kit, with low-carb "grab 'n go" meals from Healthy Box.
Get it for $158, which is 20% off regular price.