The savings are really heating up at the Denver Zoo. Animal lovers will want the weather to hit record highs in August, thanks to this wild promo. Throughout August, when Denver 7's Chief Meteorologist Mike Nelson predicts the Denver temperature to be more than 90 degrees during the 10 p.m. forecast for the next day, the Denver Zoo will host a Bodhi Bargain Day.
What's a Bodhi Bargain Day? First, Bodhi is one of the Zoo's most popular pachyderms (a.k.a. elephants.) Who doesn't love watching elephants scamper and play in the summer sun, right? Next, the special day promises lots of frugal fun for families. The deal is a "rare species", given the Zoo doesn't offer many big discounts in the summer. (Plus, there are no FREE Days until November.)
Here's what the elephant-size deal includes: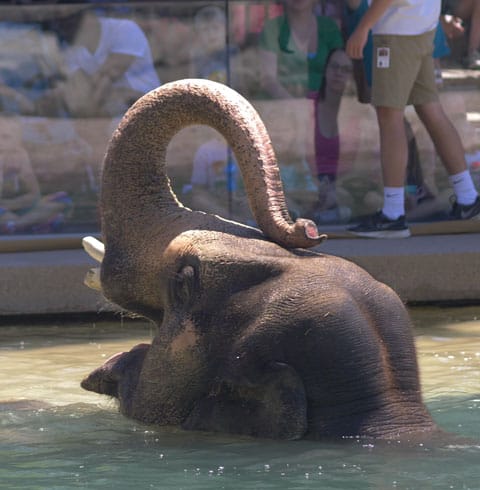 Visit the Zoo on a Bodhi Bargain Day and receive:​
Discounted admission – Get $1 off admission for each degree more than 90 predicted. For example, if it's predicted Monday night the temperature will be 98° on Tuesday, save $8 on admission on Tuesday. Get it? (Discount is based on Denver 7's 10 p.m. Denver weather forecast the night before. Discount is not available online.)
During the summer, the regular price of tickets is $20 for adults (12 to 64), $14 for children (3 to 11) and $17 for seniors (65+.) Plus, the Zoo is on summer hours — 9 a.m. to 4 p.m. (The grounds close at 5 p.m.)
Discounted membership – Receive $7 off a Denver Zoo membership — valid on all membership levels and renewals. (The discount memberships can only be purchased in person at  the Zoo.)
Discounted treats – Enjoy buy-one-get-one-FREE soft serve ice cream and Dole Whip.
Special animal demonstrations – Watch animals enjoy special enrichment, including ice treats to help them stay cool in the heat.
For more ways to save at the Denver Zoo, click here.