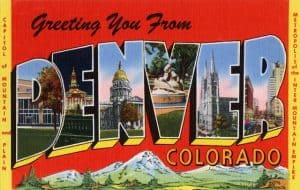 Remember mailing postcards from that awesome vacation back to jealous friends? Okay, let's be honest, most of you don't even know about postage stamps. But back in the day, postcards were all the rage. See for yourself at The Denver Postcard & Paper Ephemera Show on Friday & Saturday, May 1 & 2 at the Jefferson County Fairgrounds.
The Denver Postcard & Paper Ephemera Show is unique to Denver. Why? Because it is one of very few shows in Colorado that offer a wide variety of antique and collectible postcards but also trade cards, stereoview cards, photographs and other paper ephemera. For beginning collectors there are even bargain boxes of cards starting at 25¢ each.
The May show is expanded to include bottles, books, comics, maps, radios, clocks, art, vinyl, stamps, coins and other collectibles.
Door prizes are contributed by the dealers. Typically these are spending certificates that can be used at the dealer's booth. Food is available on site and there is plenty of free parking.
Show hours are Friday from 11 a.m. to 6 p.m. and Saturday from 9:30 a.m. to 4 p.m. Admission is $5 and is good for both days. You can print off their homepage for $1 off admission.